Theresa May wound down a 'Priti' bad day with a toast to Daily Mail Editor Paul Dacre
Published time: 9 Nov, 2017 12:01
Edited time: 10 Nov, 2017 08:20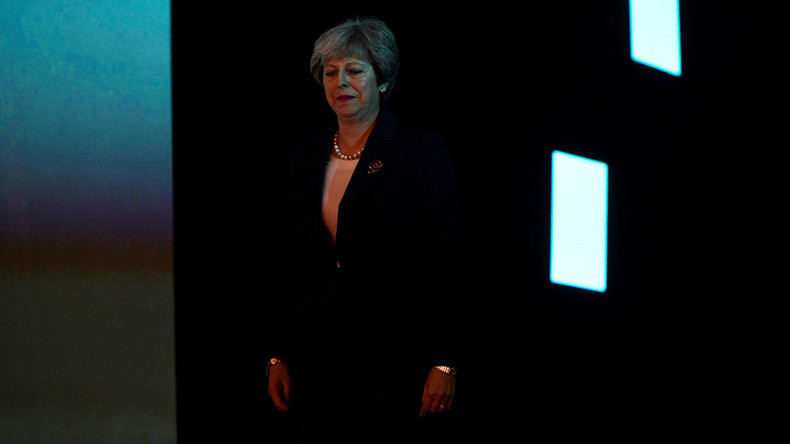 Theresa May had a 'Priti' bad day at the office yesterday, after it emerged that her International Development Secretary Priti Patel had been meeting Israeli politicians behind her back. Still, a ticking off and a resignation letter later, the prime minister got spruced up and headed out for a party.
A banquet, in fact, held in honour of Paul Dacre, who has just celebrated a quarter of a century at the helm of the Daily Mail – which withdrew its support for May days before the snap election in June when it appeared that she was not going to win.
The Daily Mail is seen as representing the voice of middle Britain, being anti-immigration, pro-establishment, and a loud campaigner for Brexit. Its editor, the deeply unpopular Dacre, was once described as "evil" by Tony Blair's former director of communications, Alastair Campbell.
The Mail was reportedly the first newspaper that Blair would read every morning.
Priti Patel was the second cabinet minister to lose her job in a week, after the resignation of Defence Secretary Sir Michael Fallon. Such has been the extent of comings and goings from May's inner circle, a revolving door may soon be required.
Some suggest Boris Johnson could be next on her hit list, after a clumsy speech potentially landed a British woman with an extra five years in jail in Iran.
Utterly nauseating that as government implodes May goes to a 'banquet' to 'celebrate' the career of hard right sociopathic hypocrite Dacre

— Alastair Campbell (@campbellclaret) November 8, 2017
The foreign minister said she was teaching journalism – while she claims that she was on holiday. Big difference when you're behind bars for "propaganda against the state".
Anyway, the cabinet ministers and their leader are very much enjoying their liberty. May's appearance at the Dacre's party caused outrage among the opposition. Alastair Campbell said her decision to honor the powerful media man was in bad taste.
"Utterly nauseating that as government implodes, May goes to a 'banquet' to 'celebrate' the career of hard-right, sociopathic hypocrite Dacre," he said.
"May sycophancy to sociopathic hard-right Paul Dacre tonight further proof Brexit is of the hard right for the hard right by the hard right."
David Lammy MP also had something to say.
"Last night of all nights the PM went to a banquet to 'celebrate' Paul Dacre's 25 years as Editor of Daily Mail? That stinks," He tweeted.
Labour officials have demanded to know how aware Theresa May really was of Priti Patel's meetings while on holiday in Israel. The international development secretary met with Israeli Prime Minister Bejamin Netinyahu, and later held meetings in London and New York with other powerful figures.
After her holiday, she looked into the possibility of providing aid to the Israeli Army for distribution among the refugee population in Golan Heights, Syria - an illegally occupied territory.
Deputy Labour leader Tom Watson has written to Mrs May for answers.