Jeremy Corbyn refused to share platform with Tony Blair at pro-EU rally, says Gordon Brown
Published time: 7 Nov, 2017 10:15
Edited time: 8 Nov, 2017 07:20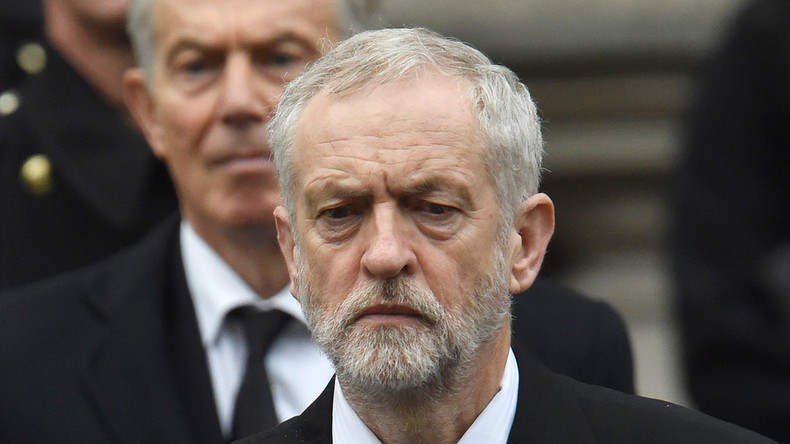 Was Corbyn only half-heartedly against Brexit, or did he simply recognize how politically toxic it is being seen with Tony Blair? According to ex-PM Gordon Brown, the Labour leader refused to even share a platform with Blair at a pro-EU rally.
In his newly-released biography, Brown said he had organized a Remain rally in the run-up to last year's EU referendum, but his plans to see all the Labour leaders of yesteryear sharing a platform for the same cause were ruined by Corbyn.
He said it all started when former Tory PM David Cameron called him during the June 2016 referendum.
"A few days before the referendum, David Cameron phoned me ... the call started well," Brown writes in the book 'My Life, Our Times'.
"Cameron then made the request I had been anticipating. He wanted all three ex-prime ministers — Tony Blair, John Major and me — to stand alongside him outside No 10, each in front of lecterns, to make the case for staying in Europe."
Brown, however, turned down the invitation, as four former prime ministers belonging to opposing parties and joining hands for the same cause would appear like an "establishment stitch up" to voters and deter Labour voters from supporting Remain.
The former PM, who took over from Blair after his resignation in 2007 and lost the election to the Tories in 2010, decided to take up the matter himself and sought to organize "a rally attended by past and present Labour leaders from Neil Kinnock and Tony Blair to Ed Miliband and, critically, Jeremy Corbyn, with all of us affirming without reservation that we wanted Britain in Europe." But Corbyn refused.
READ MORE: Labour in Brexit chaos as MPs plan to defy Jeremy Corbyn in parliament
"Through the shadow chancellor John McDonnell ... the message from Jeremy's office came back: he would not appear on the same platform with Tony," Brown wrote. Corbyn did, however, accept all leaders separately giving a speech on the same day the following week.
In the aftermath of the referendum, Corbyn was accused of not fighting hard enough to prevent Brexit. A leadership coup followed, but failed to dislodge him – merely strengthening his mandate. If Corbyn was still secretly pro-Brexit on referendum day, perhaps he was a better judge of public opinion than the rest of the establishment.