Is Brexit bad for your health? UK hospitals among most reliant on foreign medics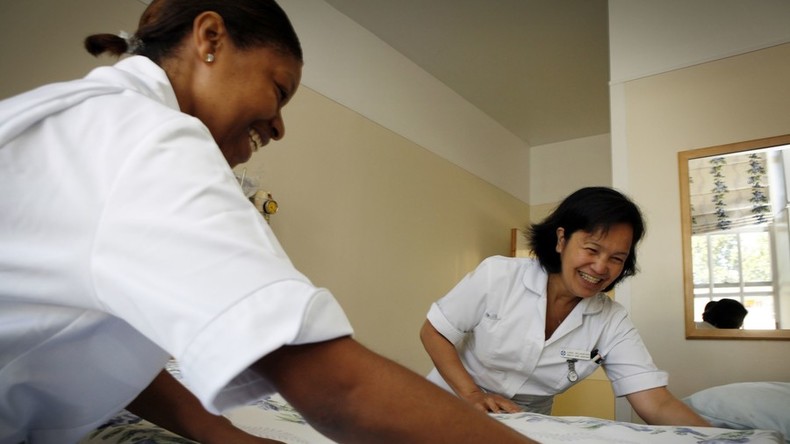 Britain is among the most reliant on foreign doctors and nurses of all developed countries, according to NHS Providers. The findings have renewed calls for the government to guarantee the 'right to stay' for 60,000 EU workers after Brexit.
According to a report based on a survey by National Health Service (NHS) Providers, which represents 98 percent of trusts, as many as one in three doctors and one in eight nurses have been trained abroad. This is more than double the average of other countries.
The report, titled 'There for us: a better future for the NHS workforce,' found that the NHS hires significantly more foreign doctors and nurses than Germany, France, Spain, Canada, the US, Sweden and the Netherlands.
It made the assessment based on recruitment figures from the 35 most-industrialized countries in the world. Only New Zealand, Australia, Israel and Ireland hire a greater proportion of doctors and nurses from overseas.
The membership body called on the government to "commit to a future immigration policy supporting trusts to recruit and retain staff from around the world to fill posts that cannot be filled by the domestic workforce in the short to medium term."
NHS Providers pointed out that staff shortage is the main concern for two thirds of chief executives and chairs of NHS trusts and foundation trusts. It said the problem is particularly severe in accident and emergency (A&E) departments.
One respondent to the survey, the chief executive of an NHS acute trust, said: "Sustainable staffing is the greatest challenge facing my organization. I have no real sense that the scale of the challenge is truly understood nationally."
NHS Providers Chief Executive Chris Hopson said: "The staff and skills shortages we now see reflect a fundamental failure at national level on workforce strategy.
"We don't have enough staff with the right skills and we're asking far too much of our existing staff. NHS trust leaders are telling us there are no quick fixes to improve the supply of UK-trained staff, and the outlook for international recruitment is uncertain."
"The government must deliver certainty for EU staff. It should reassure them that their commitment to the NHS is greatly valued and will continue to be welcome. It should also provide assurance on immigration policy so trusts can continue to recruit overseas while we strengthen our workforce here."
A Department of Health spokesperson said: "The NHS has over 12,700 more doctors and 10,600 more nurses on wards since May 2010 — but we know that we need more staff.
"That's why we recently announced the biggest ever expansion of training places for doctors and nurses, as well as being clear that the future of EU nationals is a top priority in the Brexit negotiations and we want their valued contribution to the NHS to continue — to ensure the NHS has the staff it needs both now and in the future."