Chicken-shop 'burglar' gets stuck in extractor unit for 7hrs before officers cut him out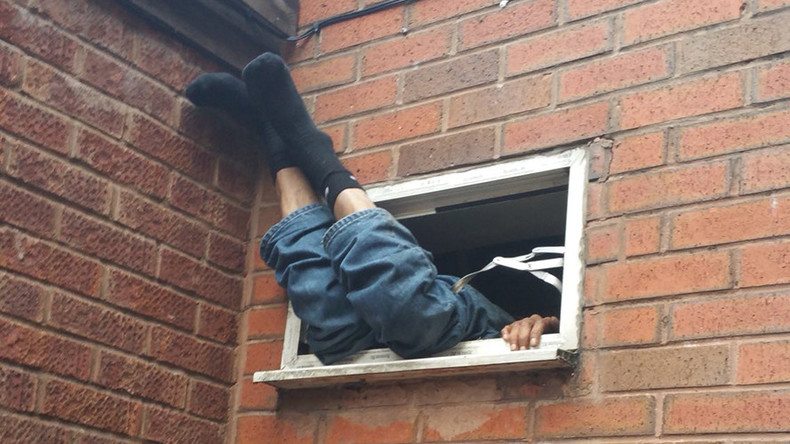 A man is being questioned in connection with a suspected break-in after police found him stuck in an extractor unit at a fried-chicken shop. Officers posted a photo of the scene, showing the man's legs poking out of the side of the building.
West Midlands Police say they were called to the scene after a member of the public spotted the man's legs hanging from DFC Chicken in Handsworth, Birmingham. The suspect had been stuck in the extractor for seven hours, and had been calling out to passers-by for help.
Officer Matthew Willocks was sent to the scene and snapped a picture of the "hapless suspect." The man was finally released from the hole by firefighters just before 9am on Thursday morning.
Willocks said the extractor unit had been removed, and the suspect had climbed into the extractor outlet at around 2am. "He was completely stuck and couldn't move at all. The fire brigade had to come in and use the jaws of life to pull back all the extractor casing to release him," he said.
The West Midlands Response Team mocked the suspect online, writing on Twitter: "#dontgetstuck if your [sic] trying to break in. 5 hours later shouting help #triptocustody by all means."
The man, 45, from Handsworth, was taken to hospital for a check-up. He has been arrested on suspicion of burglary.
Retweeting the photograph, the force's chief constable, David Thompson, commented: "Most excellent."
You can share this story on social media: