Jail bankers who caused 2008 financial crisis, says ex-PM Gordon Brown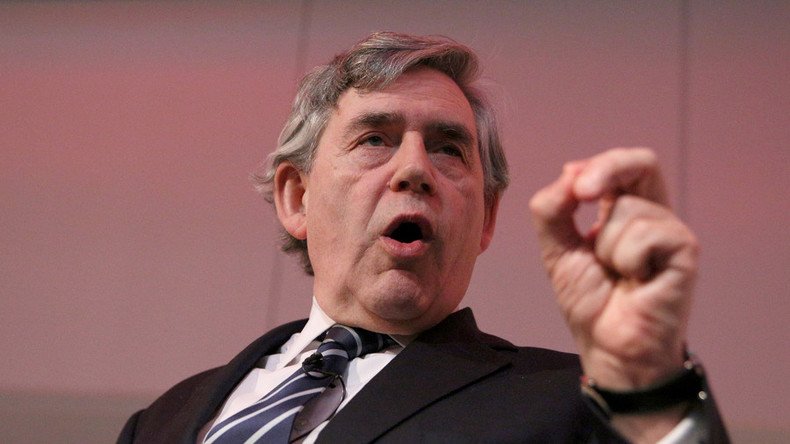 Millionaire bankers responsible for the 2008 financial crisis should be stripped of their bonuses and sent to prison, former British Prime Minister Gordon Brown has said. He warned bankers have not learnt a thing and are still playing fast and loose.
The former Labour leader, who was Tony Blair's chancellor before replacing him as PM in 2007, has torn into wealthy bankers and revealed he was preparing to quit Downing Street when the banking crisis was at its height.
The ex-PM, toppled in 2010 when David Cameron formed a Conservative-Liberal Democrat coalition, had called for tougher regulations at a special G20 summit in London. None have been implemented, however.
In an autobiography released next week – entitled My Life, Our Times – Brown says history will repeat itself if action is not taken.
"If bankers who act fraudulently are not put in jail with their bonuses returned, assets confiscated and banned from future practice, we will only give a green light to similar risk-laden behavior in new forms," he writes.
"Little has changed since the promise in 2009 that we would bring finance to heel. The banks that were deemed 'too big to fail' are now even bigger than they were.
"Similarly... some regulators freely confess that risks have morphed and migrated out of the formal banking system and if the next crisis came they would still not know what is owed and by whom and to whom. 2009 has proved to be the turning point at which history failed to turn."
The book details the time he, along with his chancellor Alistair Darling, arranged a rescue package for some UK banks.
In a revealing personal insight into the life of a prime minister, Brown writes about a time he instructed his family to pack their bags, convinced he would be forced to stand down if the rescue package failed and he had to quickly flee Downing Street.
At the time taxpayers' money was invested in Royal Bank of Scotland (RBS), HBOS and Lloyds to save them from going under. Brown, 66, says foreign countries have been quick to prosecute bankers when they fail – but the UK has resisted.
The former politician is especially scathing of Fred 'the Shred' Goodwin, the former chief executive of RBS, who Brown says drove the bank into the ground and gambled with the public's cash while living a luxurious lifestyle.
He also attacks Barclays for what he says was a decision to seek a state bailout from Qatar and the UAE, while attacking rival banks who were helped by the public purse in Britain.
"In doing so, they [Barclays] made it far more difficult to explain to the British public that this was a widespread banking crisis and not just an emergency faced by one or two banks and, by not telling the full truth, they hampered our ability to persuade legislators around the world of the need for far-reaching reform."
You can share this story on social media: