F-35 fighter worth every penny, says British test pilot – despite long list of faults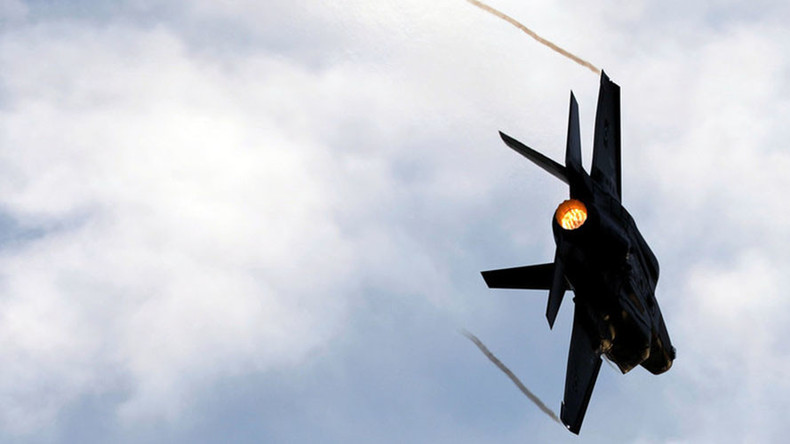 Britain's multi-billion F-35 stealth fighter order is worth every penny, according to a leading test pilot. This is despite the US-built jets' issues with oxygen supply, overheating, cybersecurity interoperability, maneuverability and communications.
The UK Ministry of Defence (MoD) is likely to pay around £80 million ($103 million) more than its earlier estimate of £9.1 billion for the jets, which have a top speed of 1,200mph. The spiraling cost is due partly to a fall in the value of the pound, and partly to a spate of technical mishaps.
However, the jets should not be judged by these teething problems alone, says Royal Air Force (RAF) Squadron Leader Andy Edgell, the UK's lead test pilot.
"It would be utterly nonsensical to not purchase and design and develop the F-35 and have it as our core staple ingredient forming our air power," he told the Press Association.
"It is an incredibly, incredibly powerful aircraft and I am not talking about thrust, the capabilities it brings to the battle space – it is incredibly powerful. The disappointing thing is I can't share all the details… I do think a lot of the critics would be quietened very quickly."
Five incidents of pilots suffering hypoxia-like symptoms have also been reported. But Edgell said glitches and bugs found during the test phases at Luke Air Force Base in Arizona should not put Britons off supporting the purchase. He brushed off the problems, saying Britain should be "proud and excited."
He said it is "not an off the shelf product" and has been "customized to suit our needs" so problems are bound to be identified.
"Some people like to talk about all the problems of the F-35," he said.
"But the F-35 is going through developmental tests, it is a developing jet, it is not developed."
An Integrated Test Force comprising elements of the US Navy, the US Marine Corps and the US Air Force have been testing the jets. Edgell said the "hovering capacity" for a vertical landing was impressive.
"You very quickly realize when flying the F-35 that [it] is an enjoyable task when you come back to the aircraft carrier. Flying the Harrier back to the carrier, now that was a handful," he said.
The UK is planning to purchase 48 of the Lockheed Martin-made jets, rumored to cost £150 million each. Once ready, the F35s will accompany HMS Queen Elizabeth, the £3 billion aircraft carrier and the nation's future flagship.
The test pilot said the first time a jet aircraft, the Harrier, put its wheels down through a vertical landing on an aircraft carrier was in 1963, highlighting that England have won the football World Cup since then.
"We win the World Cup more frequently than we do what we are going to do next year," he said.
"That is the magnitude of the event."
You can share this story on social media: