'Hurtful to Palestinians': Albert Hall told to cancel event celebrating UK role in creating Israel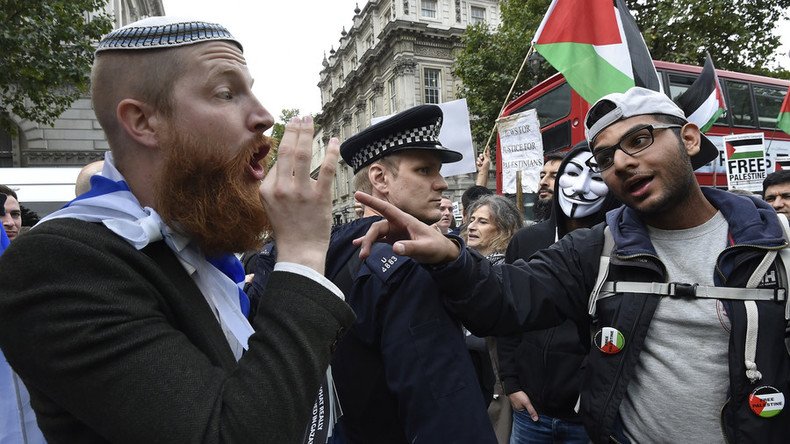 Palestinians in the UK are outraged at plans to celebrate the 100th anniversary of the Balfour Declaration, a colonial-era document that paved the way for the creation of Israel. Festivities include a huge event at London's Royal Albert Hall.
The November 2, 1917 declaration, which supported calls to establish a national home for the Jewish people in Palestine, is a source of great anger and resentment for Palestinians.
The 67-word document, which failed to protect the rights of the indigenous Arab population, will be honored across the UK at dozens of events in November.
Prime Minister Theresa May will attend at least one event with Israeli counterpart Benjamin Netanyahu.
This is despite the letter, penned by then-Foreign Secretary Arthur Balfour, leading to the mass displacement of tens of thousands.
The Royal Albert Hall event, 'Partners in this great enterprise,' is being organized by the Balfour 100 Ltd group, formerly the United Christian Alliance For Israel.
Writing to Craig Hassall AM, campaigners are demanding the event's immediate cancellation.
"We are extending this urgent letter demanding the Royal Albert Hall to immediately cancel the Balfour 100 Ltd event," the letter says.
"The event you are hosting is very politically motivated and its purpose is to provide cover for Israel's Apartheid regime, military occupation and displacement of millions of Palestinian refugees.
"The 1917 Balfour Declaration directly caused the 1948 Arab-Israeli War where Israel ethnically cleansed 750,000 Palestinians and then established a state in Palestine."
"Hosting such event that seeks to celebrate a colonial document made by an Imperial power at the prestigious Royal Albert Hall would be unethical," it states.
"Hosting the event will be extremely hurtful to millions of Palestinians who became refugees and are suffering under Israel's occupation because of the Balfour Declaration.
"It will also be promoting support [for] a state where racism is institutionalized. It is unfortunate that a radical group with dangerous political stances supporting racism, ethnic cleansing and many violations of international law will be exploiting the prestigious name of 'Royal Albert Hall' which is the beacon of culture and music in Europe and the entire world."
Palestinian leaders, including Palestinian Authority President Mahmoud Abbas, have requested that Britain use the centenary to apologize for the Balfour Declaration.
The government refused to issue an apology in April this year, saying it had helped to establish a "homeland for the Jewish people in the land to which they had such strong historical and religious ties was the right and moral thing to do, particularly against the background of centuries of persecution."
The government did, however, recognize that the declaration should have protected Arab political rights.
Protests will take place across Britain during the centenary week.
You can share this story on social media: