Merkel 'furious' about Brexit negotiations leak, fears UK govt will collapse – report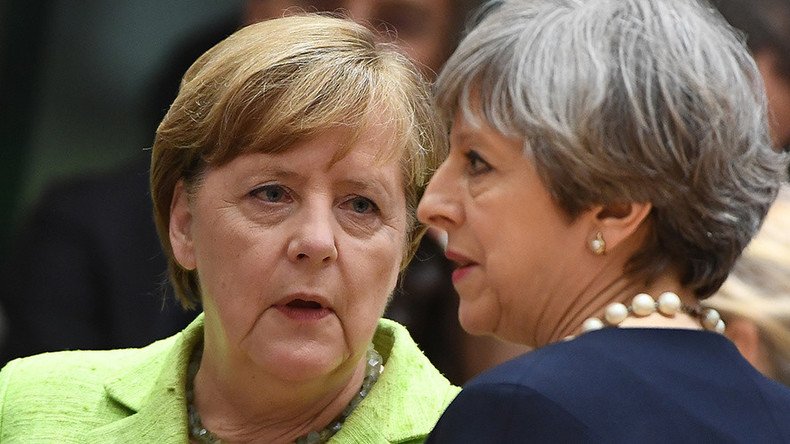 Angela Merkel is frightened that damaging leaks from delicate Brexit negotiations could lead to the collapse of talks. The German chancellor reportedly thinks the fallout could cause British Prime Minister Theresa May's fragile government to implode.
According to the Times, Merkel was "furious" about leaks that appeared in the German press, which suggested May "begged" European Commission President Jean-Claude Juncker for help in the negotiations. An undisclosed source for Frankfurter Allgemeine Zeitung (FAZ) told the paper that, following a meeting last week, Juncker told aides May was "anxious, despondent and disheartened."
He also told them May has a "struggle" to control her own party, while noting that she "looks like someone who doesn't sleep at night." The European Commission president denies the reports.
"Nothing is true in all of this," Juncker told the BBC. "I had an excellent working dinner with Theresa May. She was in good shape, she was not tired, she was fighting as is her duty so everything for me was OK."
While Merkel is reportedly angry with the Tories over their Brexit tactics, she is concerned that the leaks could topple May and that her replacement could throw the talks into further disarray.
Merkel's concerns come as May faces an increasingly fractured Tory party, with criticism leveled at the leader from both the government's pro- and anti-Brexit wings. The PM is also facing near-constant rumors of a leadership challenge, chiefly from the direction of Foreign Secretary Boris Johnson, a key Brexiteer.
On the other side of the house a motion of no confidence has been proposed. Following the disastrous weekend of negotiations, Labour MP Stephen Kinnock called for a vote against the prime minister.
Kinnock said such a motion should read: "That this house has no confidence in the ability of her majesty's government to negotiate the terms of the UK's withdrawal from the EU in such a way as to protect and promote the jobs, livelihoods and long-term interests of the British people."
It is unlikely that the motion would succeed, with the opposition needing rebels from the Conservative government and its Democratic Unionist Party (DUP) allies.
The last time a no confidence motion succeeded was in 1979, toppling the minority Labour government of James Callaghan and leading to the election of Margaret Thatcher.
You can share this story on social media: