Downing Street won't deny that Theresa May 'begged' Jean-Claude Juncker for help in Brexit meeting
Published time: 23 Oct, 2017 13:06
Edited time: 24 Oct, 2017 07:57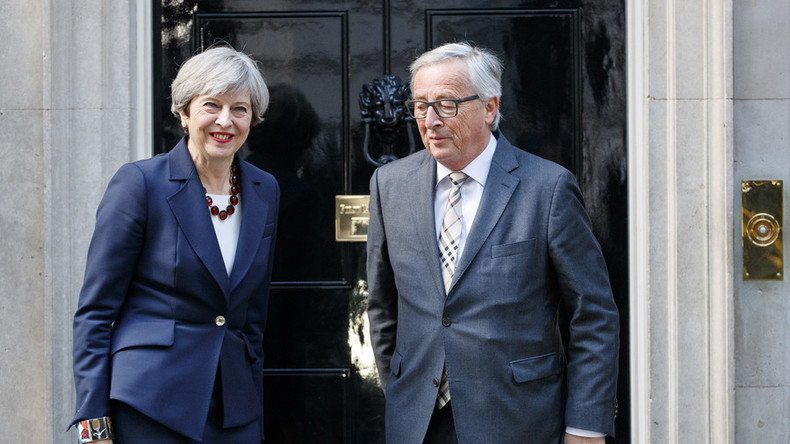 Downing Street refuses to comment and the man accused of saying it denies he ever uttered the words. But German newspaper Frankfurter Allgemeine Zeitung (FAZ) still says Theresa May "begged for help" in Brussels last week.
The claim relates to a private meeting between President of the European Commission Jean-Claude Juncker and the British PM last Monday. According to FAZ, May appeared "anxious, despondent and disheartened" as the two sat together ahead of an EU summit in the Belgian capital.
Juncker's spokesman has been quick to deny that he described May as looking "anxious" and "marked" by her own Cabinet infighting over Brexit. However, the newspaper is standing by its account that "she indicated that back home friend and foe are at her back plotting to bring her down."
"May said she had no room left to manoeuvre. The Europeans have to create it for her," the paper said. "May's face and appearance spoke volumes, Juncker later told his colleagues.
"She has deep rings under her eyes. She looks like someone who can't sleep a wink. She smiles for the cameras, but it looks forced."
May's former chief of staff Nick Timothy has accused a senior aide to Juncker, Martin Selmayr, of leaking details about the dinner in Brussels. Selmayr, however, denied involvement and said the leaks are an attempt to "frame" the EU.
EU Commission spokesperson Margaritis Schinas said the body had nothing to do with the leaks and added that whatever party is responsible is trying to undermine their negotiating position.
"Normally we do not comment on leaks, but today I will. Some people like to point at us to serve their own political agendas, their own political priorities, or even to undermine our negotiating position," she said.
"We would appreciate if these people would leave us alone, we have lots of work and no time for gossip."
Downing Street said it had no comment on the leaks published by FAZ, but reiterated previous claims from both sides that the talks had been "constructive and friendly."

It is the second time that the newspaper published leaked details of engagements between May and Juncker. In April, FAZ reported that Juncker had said May was "in another galaxy" regarding her Brexit expectations after a dinner at Downing Street.
May, however, dismissed the claims as Brussels gossip, and accused the EU of trying to meddle with the general election last June.
The meeting last week preceded an EU summit, where May hoped progress could be made on Brexit negotiations. She was widely ridiculed after the event after a picture of her sitting alone at a large conference table in Brussels went viral.