Scientology defectors protest against new Birmingham HQ for 'money-making cult'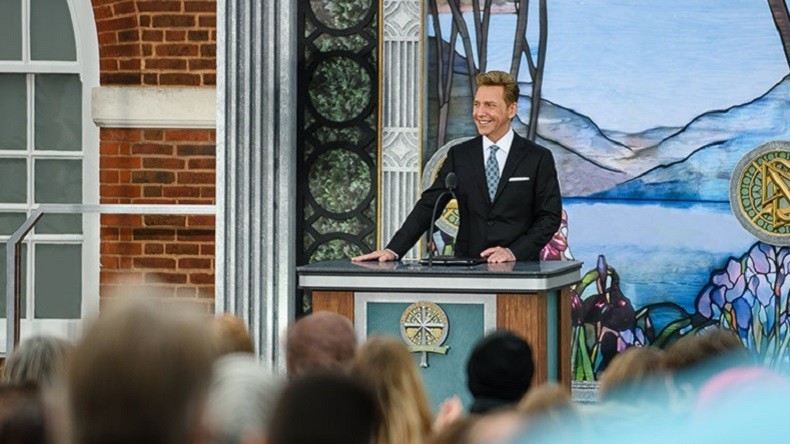 Protesters rallied outside the Church of Scientology's new UK base in Birmingham on Monday to oppose its grand opening. The Church has established its headquarters in the £4.2-million Pitmaston House, which it acquired back in 2007.
After undergoing a 10-year refurbishment, the development in Moseley was opened to the public adorned with a huge blue rosette and ribbons. Featuring speeches by senior Church figures, the inaugural event was guarded by heavy security, with the premises open to members only.
Protesters, who were mostly former members of the Church, demonstrated against the opening. One protester said the Church's establishment in the UK's second largest city is "frightening."
"People don't understand what's going on in their local area and that's very frightening," William Drummond, a former long-time member, told the Birmingham Mail.
The Church of Scientology seeks to liberate its followers of detrimental mental images through Dianetics counselling, known as auditing. A string of defectors, however, have accused it of being a dangerous cult which is physically and emotionally abusive.
Another former Scientologist taking part in the protest, Adrian Bailey, told the newspaper: "The main motivation for them is money, property and expansion – and that's evident here."
"What annoyed me the most was that they always asked for money. And with all the secrecy, it's not surprising people think it's a cult."
READ MORE: 'Scientology knock-off': Whistleblower exposes 'cult' that thinks 'children are sexy' (EXCLUSIVE)
The organization's leader, David Miscavige, gave a speech during the event saying: "When that inaugural ribbon falls, so a curtain rises… and so it becomes every Scientologist's responsibility to uplift England's Salt of the Earth, thereby turning an industrial revolution into a spiritual revolution," he said, according to the Church's website.
Roger Godsiff, Labour MP for Hall Green, had previously said he was "not a fan of the Church of Scientology, which is essentially a money-making cult."
Graeme Wilson, the Church of Scientology's UK-based public affairs director, previously claimed the churches help educate communities on drugs and human rights, and provide them with literacy programs and crime reduction schemes.
You can share this story on social media: