CEO of 'Vampire squid' Goldman Sachs hints at post-Brexit relocation to Frankfurt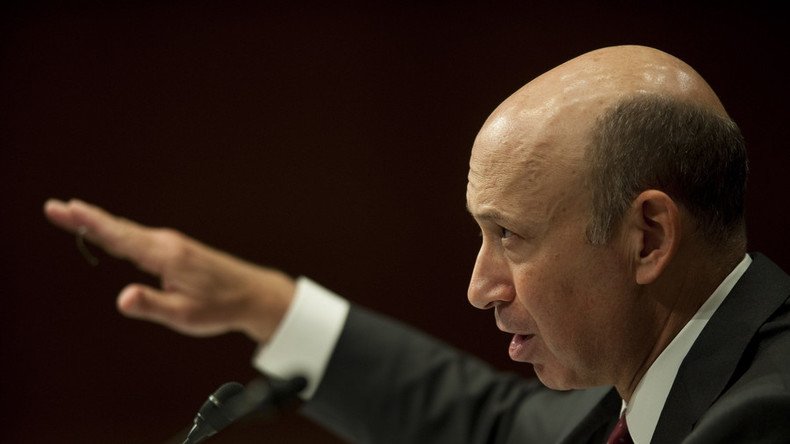 Goldman Sachs CEO Lloyd Blankfein has hinted that the investment bank could relocate to Frankfurt in the wake of Brexit.
The 'vampire squid' executive tweeted on Thursday that he expected to spend more time in the German city after Britain leaves the EU.
"Just left Frankfurt. Great meetings, great weather, really enjoyed it. Good, because I'll be spending a lot more time there," tweeted the US banker.
The remark was followed by the hashtag "#Brexit," linking his comments about the city to Britain's decision to withdraw from the European bloc.
After Brexit, financial companies based in London will lose their "passporting" rights to provide services in the EU single market.
Like many other financial institutions, Goldman Sachs has said it will consider relocating some of its 6,000-strong London staff to other EU cities, such as Frankfurt, as part of its post-Brexit contingency plans.
Last month, Wolfgang Fink, co-chief executive of Goldman Sachs in Germany, said that staffing in Frankfurt could rise to 800.
Claiming "Brexit was a remarkable act of hubris" Keiser Report host Max Keiser told RT: "Now banks like Goldman are jumping ship and the entire European banking hub will shift from the City of London to Frankfurt and a few other cities on the Continent because that's where the biggest market is.
"Brits thought they could fool the world into thinking they could drop out of the EU and still be relavant. They failed."
Jacob Rees-Mogg, a Tory backbencher and MP for Northeast Somerset, hit out at Blankfein's remarks, and suggested that he was merely trying to cover up for his company's own hiccups.
"I assume this is some sort of displacement activity since Goldman's results weren't so hot," said Rees-Mogg, who has been tipped to succeed May as Conservative leader.
"I'm sure his shareholders would rather he stuck to business rather than politics."
Responding to Blankfein's comments, a Downing Street spokesman told reporters: "We're not going to comment on an individual statement.
"But let's be clear, London is and will remain the world's leading financial centre," The Times reports.
"We have the breadth of talent, legal system, regulation and deep pools of capital that are simply unrivalled by centers anywhere else in Europe and we are confident of securing an ambitious economic partnership with the EU that will include financial services."
You can share this story on social media: