Declassified files finally expose failures that allowed Argentine missile to sink British warship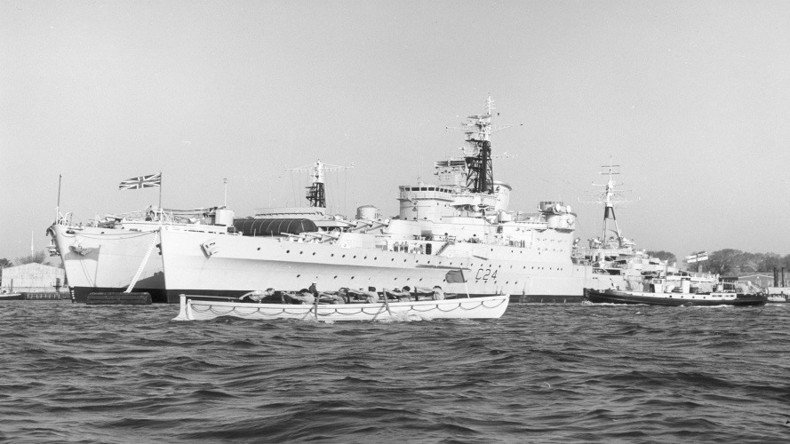 Documents detailing a long list of failings have been released after being covered up for more than three decades, shedding light on how the Royal Navy destroyer HMS Sheffield was sunk by Argentina during the Falklands War, leaving 20 dead and 26 injured.
The results of an inquiry into the ship, which was struck by an Argentinian Exocet missile in 1982, were released on Sunday – 35 years after the disaster.
Findings reveal the ship was unprepared for such an attack, that some members of the crew had been "bored," and that the anti-air warfare officer on duty "was having a coffee" at the moment the missile struck.
An original report released to the public left out key details, including the fact that two officers had been "found guilty of negligence," the Guardian reports.
There were also "critical deficiencies" in the firefighting equipment.
Other findings in 'Secret – UK Eyes Bravo' include officers on the ship being so "mesmerized" by the sight of the missiles they did not broadcast a warning to the ship's company.
Human error was largely blamed.
HMS Glasgow also failed to spot the approaching aircraft and the warfare officer in the ops rooms failed to react "partly through inexperience, but more importantly from inadequacy" it was found.
Submariner Sam Salt, captain aboard HMS Sheffield, was described as having "little or no relevant recent surface ship experience."
Action could have been taken to minimize injury, including men being sent to "action stations" and turning the ship towards the Exocet missiles to "narrow" its profile.
The ship was hit on the starboard side, ripping a hole 15ft long and 4ft high.
A fire tore through the ship for two days.
The ship sank while being towed to shore almost one week later.
The response of the firefighters on board was branded "uncoordinated."
The Type 42 destroyer was the first lost by the Royal Navy since the Second World War.
The report found the anti-air warfare officer did not believe the ship was within range of Argentina's Super Étendard aircraft because an intelligence assessment was difficult to digest.
Another glaring error was the radar on board the ship, which would have seen the aircraft coming, being blanked out by a transmission to another vessel.
You can share this story on social media: