What are the chances? Ship's anchor spears torpedo off Britain's south coast (PHOTO)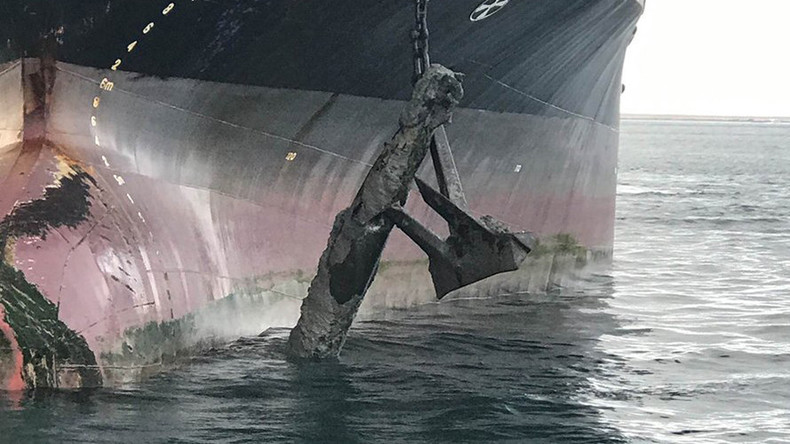 An merchant vessel carrying around 1,000 tons of fuel enjoyed a narrow escape when its anchor pierced an old test torpedo after coming to a stop off the coast of Portsmouth.
A member of the crew raised the alarm after noticing the highly-corroded ordnance attached to the flute of the anchor as it was being lifted from the water Friday.
Divers from the Royal Navy's Southern Diving Unit were dispatched to the scene where they evacuated the majority of the crew before pumping the ship's fuel into tanks furthermost away from the site of any possible explosion.
Explosive Ordnance Device (EOD) specialists then set about the task of disarming the weapon.
"We directed the ship to use her other anchor to steady her, before lowering the fouled anchor, and the torpedo, to several meters below the waterline," Lieutenant Commander Jonathan Campbell of the Southern Diving Unit said in a statement.
"Working parts inside the torpedo could be seen from where the anchor fluke had ruptured it. The entire bomb disposal team were professional and got on with the job in hand."
READ MORE: 86yo mine found shrouded in mystery & vegetation off Swedish island
After a seven-hour operation to remove the torpedo from the anchor, the device was taken to a safe area and lowered to the seabed where it was destroyed.
Further research into its origins revealed that it was a British-made device and part of a test range used around Portland Harbour in Dorset until the 1980s.
The threat of historic ordnance remains in coastal waters around the UK.
In February, an unexploded 500lb German bomb was found by a ship dredging in the mouth of Portsmouth harbor. The World War II-era device was later taken out to an area off the coast of the Isle of Wight and detonated by the Royal Navy.