Pipe bombs, car attacks & UK targets: RT investigates spread of ISIS online chat groups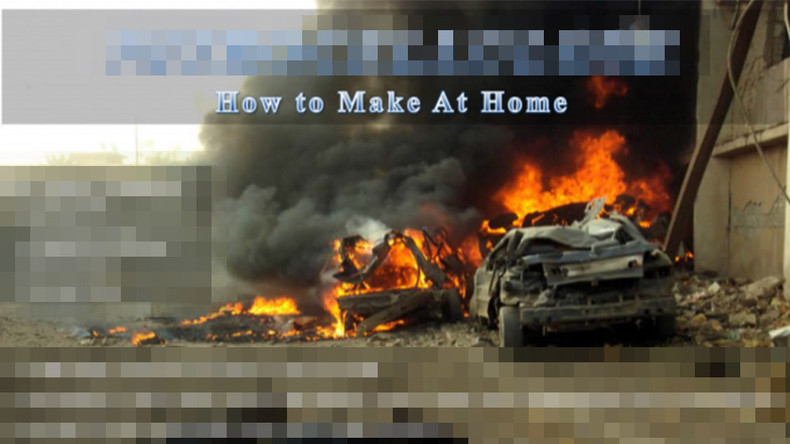 Bomb-making manuals are being circulated inside terrorist groups on the internet, alongside footage of British landmarks, even as the government claims it is clamping down on the sharing of jihadist material. RT looked inside an Islamic State chat group.
Islamic State (IS, formerly ISIS/ISIL) followers have been widely sharing terrorism manuals which explain how to make bombs with household products.
Manuals made in 2013 are still being shared with titles such as "Make a bomb, in the kitchen of your mom."
The manuals are written entirely in English and explain, with pictures, how to make explosives, nail bombs and pipe bombs to attack the public.
In the same groups, videos of at least one British railway station, Liverpool Lime Street, was shared.
The group, which RT will not name to protect the public, promotes attacks on citizens.
Reasons given for attacking innocent civilians far from war zones included increasing fear "when an assassin strikes in the enemy's land."
The matter-of-fact manuals are written out with step-by-step diagrams and instructions.
Wannabe jihadists are advised to carry out test runs using small amounts.
Instructions are carefully laid out and many carry pictures, showing the bombs being created, next to a advice such as "be careful" because "the first mistake can be the last."
RT took the instructions to a chemist, who concluded they were correct, and would lead to the creation of explosives if followed correctly.
"Most of this could be attempted," he said.
"Excluding the ****** stuff, that's not for Joe public, it is too fiddly without blowing yourself up in the process.
"This is really simple chemistry. Most of what they have got here is chemically sound."
However, the risks were not taken into account and the chemist warned some materials suggested, such as Potassium chlorate, would be extremely difficult to access in the UK.
Some described how to make bombs with acids and bleach readily available in the UK.
It is not clear how many of those in the group reside in the UK, due to the secretive nature of their communications.
However, footage of Liverpool Lime Street was shown in the group in September.
"They are not very clear what you would do with it so it would require someone working it out for themselves," RT was told by a chemist.
"The most damage is about where, when and how it is used."
The revelation comes just weeks after a similar device was used during the Parson's Green Tube attack.
A fireball blew out of a bucket planted on a commuter train, injuring people around it.
The home-made Improvised Explosive Device (IED) was made using items described in the manuals being shared in jihadist groups, seen by RT.
Following the attack in Barcelona on August 17, when 13 people were killed on Las Ramblas, police discovered scores of gas canisters being collected by IS followers for an attack.
Home Secretary Amber Rudd recently announced plans to clamp down on people accessing jihadist material online.
However, the move could well be too little too late.
Online radicalization has been a problem for years, increasingly sharply, to the point that extreme content is easily accessed.
Home Office analysis shows IS followers have published almost 67,000 tweets in English, while YouTube, Facebook, WhatsApp, Telegram and other social media sites are riddled with terrorist material.
Of those tweets, there were more than 44,000 directly leading to IS propaganda.
Proposed changes will apply to material "repeatedly" streamed online under the offence of possessing information likely to be useful to a terrorist under section 58 of the Terrorism Act 2000.
The act currently covers material downloaded and saved, printed or stored.
RT has passed its findings on to the police.
You can share this story on social media: