No pomp for Trump? US president's lavish state visit 'downgraded to routine 2018 work tour'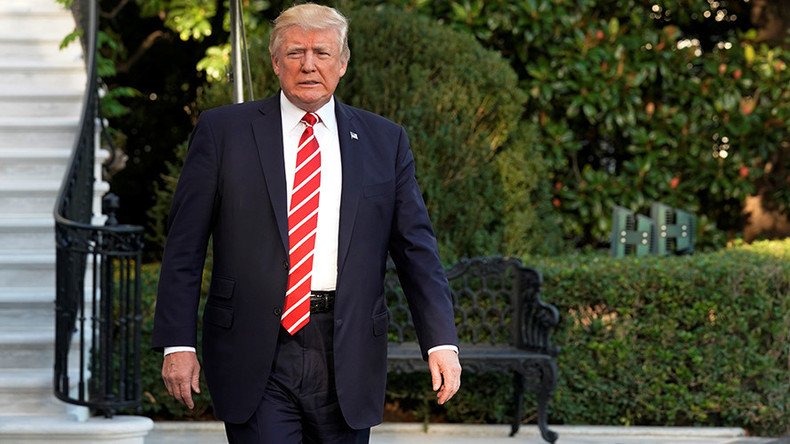 Thinking she would be stealing a march on other world leaders, Theresa May offered Donald Trump a full UK state visit last January, with all the pomp and palaces he could handle. It never took place.
The Queen and her shiny soldiers were meant to welcome the US president in the summer. Now London's Evening Standard is reporting that while Trump is finally expected to arrive on British shores next year, it will be a much downgraded working visit as part of a multi-country tour.
The thought of Trump stomping down the red carpet caused a public outcry from the very beginning. A petition declaring it would be an "embarrassment" for the monarch to welcome the president attracted the signatures of 1.8 million people.
The invitation was always seen as a breach of protocol as presidents are generally only offered a state visit once they enter a second term, and threats of protests and a boycott saw the event being put off indefinitely.
London Mayor Sadiq Khan also hit out at the PM's invitation, saying he was "not sure it is appropriate for our government to roll out the red carpet" for Trump.
Trump and Khan are regular adversaries on the Twitter battlefield, with several online spats linked to terrorist attacks in London.
A source close to the mayor, however, said Khan would not oppose plans for a working visit by Trump, according to the Evening Standard.
The low-key event in 2018, should it go ahead, is unlikely to involve a stay with the Queen so would be far less controversial, although protests would also seem likely.
The PM's office said on Wednesday there was no knowledge of a working visit and that a state visit had been offered and accepted by Trump, although the date is yet to be arranged.
A US embassy source said there were "not currently" any plans for a working visit
You can share this story on social media: