Are Scotland and Catalonia's independence struggles symptoms of EU oppression?
Published time: 10 Oct, 2017 11:53
Edited time: 17 May, 2018 10:37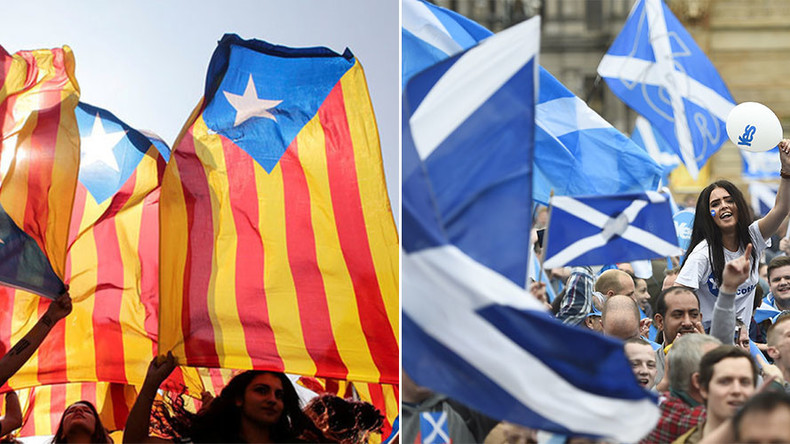 Could the real cause of Catalonia and Scotland's movements for independence be the European Union's efforts to suppress campaigns for national sovereignty across its member states?
The director of Common Weal, a pro-Scottish Independence think tank, told RT that recent events unfolding in Catalonia are a wakeup call for the EU. If it wants to "survive," it must take into account the political, cultural and ideological differences between its member states.
Catalonia, a wealthy autonomous region in the north-east of Spain, voted last week in an illegal, non-binding independence referendum, in which 90 percent of voters chose to break away from Spain.
The vote was marred by violence, as Spanish police attacked polling stations and protesters.
Robin McAlpine said Catalonia's crisis is indicative of a wider trend across the EU, where various geopolitical entities are pursuing self-determination to break free from centralized governments.
Disputing the claim that Scotland and Catalonia's autonomy movements are one and the same thing, he said: "Why do people assume that self-determination will always look the same? It doesn't," he said, pointing out the varying political, cultural and ideological triggers.
"The significance [of the Catalonia referendum] is for Europe and its nation states, who eventually will have to understand that it cannot repress discussion in regions that forsake self-determination forever," McAlpine said.
So although it is hard to distinguish clear ties between the two countries' independence movements, it seems like they were triggered by the same attempt by the EU to ignore its member states' thirst for freedom.
McAlpine suggested, in fact, that the Catalan referendum is more of a stark reminder that not everything in the EU can be "symmetrical" and that in order for the bloc to survive it must recognize the distinctness of each and every political movement across its union."
"You cannot impose that level of uniformity on that diverse a continent," said McAlpine.
"Unless the EU can understand that there are different people in different places and with different priorities, it will never represent the diversity of citizens' hopes and aspirations."
Scotland held its own, binding independence referendum in 2014, which saw a majority (55 percent) voting to remain a part of the United Kingdom.
However, there has been widespread speculation in recent months about a second vote taking place in the near future. Scottish National Party (SNP) leader Nicola Sturgeon would like to see a repeat once the terms for the UK's withdrawal from the EU are hammered out.
As almost 900 people were injured during clashes with the extra 4,000 national police officers deployed by Spain in the aftermath of the Catalan vote, McAlpine said Scotland "feels an enormous human solidarity" with Catalonia.
While Madrid responded with physical violence, the British government responded to the Scottish referendum in 2014 with a raft of existential threats, widely referred to at the time as "Project Fear." London warned that banks, companies and businesses would withdraw from Scotland if it chose to go it alone.
The EU too, McAlpine said, threatened to "throw" the country out of the bloc if it saw through its plans for independence.
McAlpine's views are echoed by Mike Small, editor of the political magazine Bella Caledonia, who told RT that Spain and Britain's attempt to clamp down on liberation struggles in more than half their regions cannot be sustained much longer.
He compared the differing responses of central government in London and Madrid. While acknowledging Spain's reaction was "overtly violent," he called the UK's "a far more insidious response," as it was based on "large-scale propaganda and misinformation."
"Both centralized states face a total crisis and I don't see how it is possible to repress over a long time country, regions and nations, half of whom don't want to be part of Spain or Britain," Small remarked.
Small believes a second independence referendum could be on the cards for Scotland when the detrimental effects of Brexit surface in a couple of years' time.
"Brexit is an economic disaster for almost everybody and it will cause shockwaves through Britain in a way that is barely recognized yet," Small said.
One thing both Scotland and Catalonia hold in common, therefore, is that their future as independent nations could rest in the hands of the EU and its willingness to accommodate the continent's regional diversity.