Chinese warships dock in London for 1st time amid calls for closer military ties
Published time: 4 Oct, 2017 10:57
Edited time: 5 Oct, 2017 07:22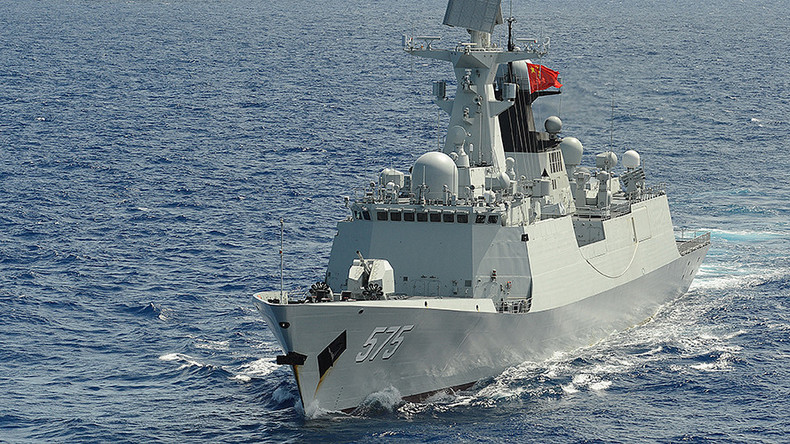 London and Beijing must forge closer military ties in a world that is "far from being peaceful," Chinese Ambassador to Britain Liu Xiaoming said, as warships from China docked for the first time in London.
Two Chinese 54A frigates from the 26th Navy Task Force arrived in Docklands in the lower Thames as part of a European goodwill tour. Liu said the arrival of the two 4,000-ton, 440ft-long frigates is also a sign of China's commitment "to world peace."
Armed with cruise missiles, the frigates, worth £180 million (US$240 million) each, can hit targets up to 50km (31 miles) away and specialize in destroying ships and submarines with their torpedoes and rocket launchers.
China's 26th naval escort fleet arrived in London Tuesday, making Chinese navy ships' first official visit to Britain's capital city pic.twitter.com/Mdt81kphau

— People's Daily,China (@PDChina) October 4, 2017
"Today's world is far from being peaceful. Regional conflict, terrorism, piracy, cross border crimes and refugee crisis are on the rise," Liu said during a speech to mark the historic visit.
"To meet the challenges and uphold peace, China proposes to build a community of shared future for mankind, calls for a new type of international relations."
He then quoted Britain's wartime prime minister, Winston Churchill, saying: "Continuous effort, not strength or intelligence, is key to unlocking our potential."
Britain's Royal Navy said the visit would include talks with Chinese officials over how the two countries can work together to tackle piracy and humanitarian crises.
A Royal Navy warship is expected to pay a return visit to China sometime next year while deployed to the Pacific.
Rear Admiral Alex Burton of the Royal Navy said the visit "reflects the long, strong and very common relationship that both our navies have with the sea."
The visit came as Britain eyes post-Brexit trade deals with Beijing and as senior diplomats are trying to encourage the country to rein in North Korea.