Las Vegas attack: Theresa May hopes US will be shocked into rethinking gun laws
Published time: 3 Oct, 2017 11:57
Edited time: 4 Oct, 2017 08:09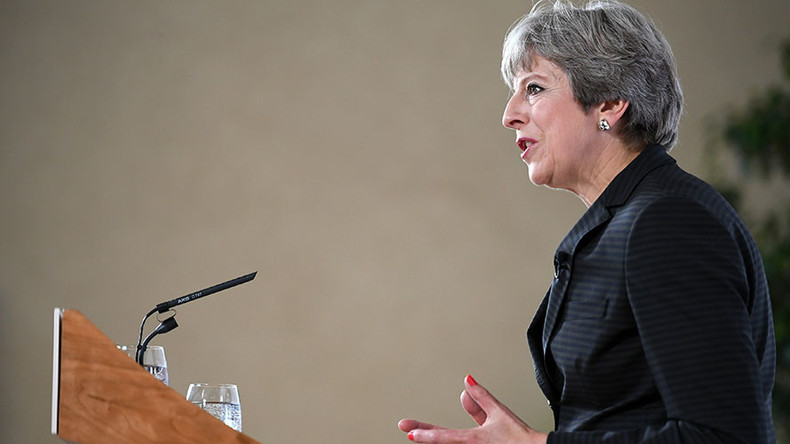 Prime Minister Theresa May has said she hopes Sunday night's atrocity in Las Vegas will be a wake-up call for the US government to implement stricter gun laws.
Speaking on ITV's Good Morning Britain program, the Tory leader said the mass shooting in Las Vegas that killed 59 and injured 527 should be enough to spur the US to clamp down on the right to bear arms.
Laying out the differences between the US's and UK's counterterrorist strategies, she said: "I understand that this individual [who carried out the Las Vegas attack] had a very significant arsenal of weapons with him in the hotel and another significant arsenal back home.
"This is obviously a contrast with our country where we have very strict gun laws.
"It's obviously up to America what gun laws they put in place.
"I think that most people would look at this and assume that America will be so shocked by this attack that they would want to take some action."
The UK has been rocked by five terrorist attacks this year alone, and the terrorism threat remains at "severe," meaning an attack is highly likely.
The PM stressed the threat is not posed by terrorist cells alone, but also by 'lone wolf' actors. She said her party will push to implement policies targeting online radicalization.
"At the moment it's an offense to download terrorist material. In the future we'll be making it an offense to stream or browse that material and we're going to be increasing the sentence so it could last to a sentence up to 15 years," May said.
"We are doing a whole review of our capabilities to deal with them, as you know it is not only the United Kingdom who have suffered terror attacks."
Pointing to the recent attacks in Marseille, France, and Canada, the PM said the whole of Europe is seeing an "increased tempo of these sorts of terror attacks, [and] that is why we constantly look at the powers we give to police and security services.
"We have to look again, it's why we have protected the budget for counterterrorism policing," May added.