'End the violence': Corbyn tells May to step up over Catalan independence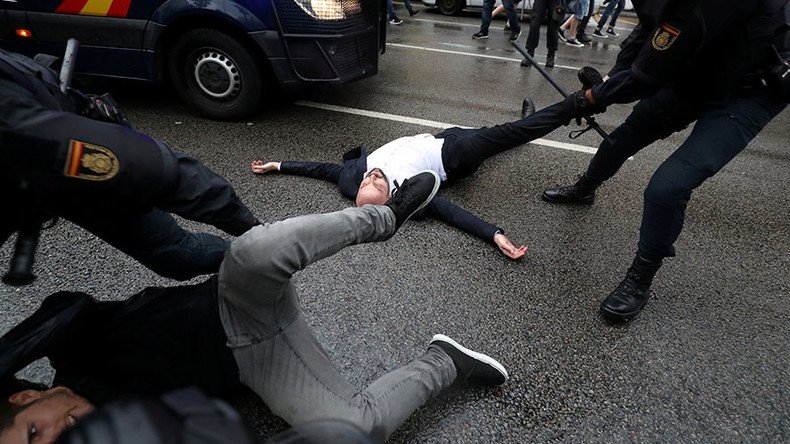 Prime Minister Theresa May should wade in on the Catalan independence referendum debacle after violence rocked the Spanish region this weekend, Labour leader Jeremy Corbyn has said.
Bloody scenes were broadcast from Spain after Catalonia held an independence referendum deemed illegal by the Spanish government and the Civil Guard was called in.
Rubber bullets were fired into the crowd and civilians struck by baton wielding officers.
The European Union was silent as the world watched in horror.
However, May is being called upon to act.
Corbyn urged May to appeal to the Spanish prime minister to end the police violence.
Independence was declared by Catalan leaders on Sunday, sparking the Spain's worst constitutional crisis for decades.
The Constitutional Court in Madrid has refused to recognize the region as an independent state, despite widespread support.
Corbyn tweeted to condemn the violence caught on camera, as peaceful protesters were battered.
He called the scenes "shocking" and said the "Spanish government must act to end it now."
"I urge Theresa May to appeal directly to [Spanish PM Mariano] Rajoy to end police violence in Catalonia and find a political solution to this constitutional crisis," Corbyn wrote.
More than 460 were injured this weekend, and more than a dozen police officers were hurt.
Liberal Democrat leader Sir Vince Cable insisted Foreign Secretary Boris Johnson should weigh in.
He told Johnson to call in the Spanish ambassador and tell him that the police response was "unacceptable."
"Police in a democracy should never drag people violently out of polling stations, whatever the arguments for or against holding a referendum," Cable said.
"The police response looks to have been brutal and completely disproportionate.
"Regardless of views on independence, we should all condemn the scenes being witnessed and call on Spain to change course before someone is seriously hurt. Let people vote peacefully."
The Foreign Office said it was an internal matter for Spain.
"We want to see Spanish law and the Spanish constitution respected and the rule of law upheld," a spokesperson said.
"Spain is a close ally and a good friend, whose strength and unity matters to us."
You can share this story on social media: