Catalonian firefighters protecting voters beaten by Spanish riot police (PHOTOS, VIDEOS)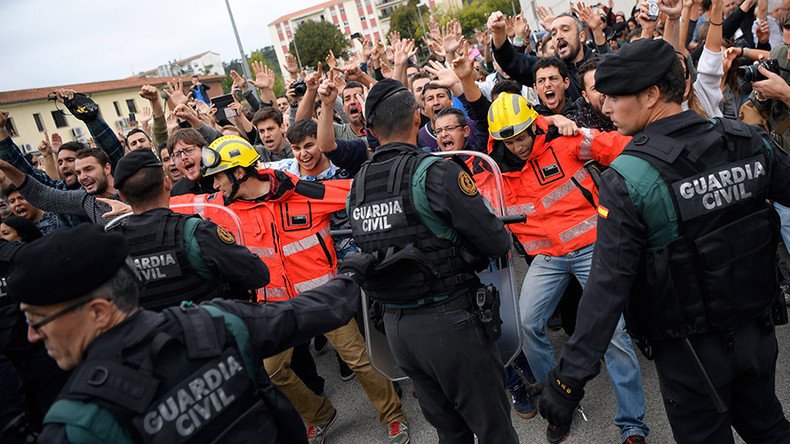 Amid the widespread "shameful" conduct by the Spanish Civil Guard during the Catalan referendum, firefighters, who on many occasions shielded those trying to vote, have emerged as the unlikely heroes of the day.
Forming human chains and acting as buffer zones between civilians and security forces, selfless firefighters allowed many voters to cast their ballots and prevented more violence across Catalonia.
As soon as polling stations opened Sunday morning, defying Madrid's "illegal" vote ban, hundreds of off-duty firefighters rushed to the stations.
Dressed in full gear, they stood united between civilians and riot police who at many polling stations used rubber bullets truncheons to disperse people, and at times dragging them away.
As blood began to spill, the Catalan firefighters known as the Bombers Independència, sprung into the action, desperately trying to stop the clashes AND keep the peace. In some instances, the firefighters turned 'peacekeepers' were brutally beaten by the armed military police.
Locals anticipated fire officers to play some kind of role after hundreds of firefighters unfurled a massive banner saying 'Love democracy' from the roof of Catalonia's history museum just days before the referendum was due to take place.
But their actions during the vote surpassed all expectations. Everywhere the firefighters appeared on Sunday, they were greeted by the crowd as true Catalan heroes, receiving loud applause and endless cheer.
Amid the violence and tensions across Catalonia, Catalan police were forced into multiple standoffs with Spain's Guardia Civil. Emotional footage has emerged of teary-eyed members of the Mossos d'Esquadra standing arm in arm to defend polling stations.
READ MORE: Catalan police in tears as they shield referendum voters from Civil Guard (VIDEOS)
Local police and firefighters were not the only ones intervening against Madrid's crackdown, though, as entire communities united to push back against the federal crackdown. Residents of Mont-roig del Camp literally drove back numerous vehicles of the Civil Guard that were in the municipality to stop the referendum. Video from the scene shows a huge crowd pursuing policemen and forcing them back inside the vehicles with shouts of "out, out!" and "shame!"
A similar scene played out in Sabadell (Vallès Occidental), where policemen were forced to retreat. In Sant Joan Despí (Baix Llobregat) police were also chased away by angry voters.
At least 893 civilians suffered injuries during the poll in which over 2 million Catalans voted to secede from Madrid.
90% of voters said 'Yes' to independence from Spain – Catalan government
"The Spanish State has today written a shameful page in its history of relationship with Catalonia," the head of the regional government said after the vote.
Praising the courage of millions of Catalan people, who, despite a violent police crackdown, took to the polling stations to vote, Carles Puigdemont called the brutality "unjustified, shocking and abusive."
After polling stations closed, Spain's Prime Minister, Mariano Rajoy announced that "no referendum" took place in the country, while stating that officers were just "performing their duty". The Spanish foreign minister called the police response "proportionate," after the Spanish interior ministry announced that at least 33 officers were injured in the clashes.
You can share this story on social media: