'Let me die': Terminally-ill man's plea for right to die in hands of High Court (VIDEO)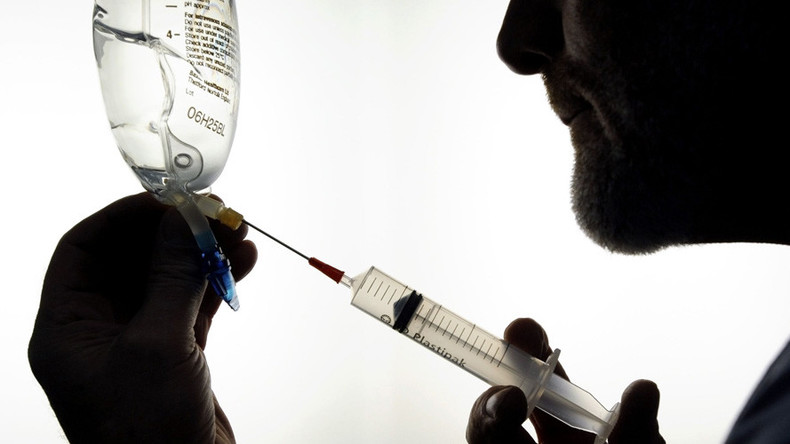 Noel Conway, who is terminally ill with motor neurone disease, is fighting for the right to die. Too weak to take his own life, he wants a doctor to give him a lethal dose.
In a landmark legal challenge, Conway, 67, told the High Court that the current law on suicide, which could see anyone who helps him die jailed for 14 years, is incompatible with his fundamental human rights – to live and die as he chooses.
In England and Wales, the Suicide Act 1961 makes it an offence to encourage or assist a suicide. It is not illegal to attempt suicide in Scotland, but helping someone take their own life could lead to prosecution.
"I want to die when I am ready to die – by taking a medically approved substance that will do it swiftly and without suffering," Conway told campaigners in the lead up to his legal challenge.
"I'm going to die anyway. It's a question of whether I die with or without suffering and on my own terms or not."
Conway, whose deteriorating condition means his ability to move, dress, and eat has diminished, and is dependent on a ventilator to breathe overnight, was too unwell to speak to RT.
Conway's challenge has stirred passions on both sides. When MPs last voted on assisted dying in 2015, they rejected any amendment to existing laws.
Campaign group Dignity in Dying, which supported Conway's case, wants a "limited law" based on that used in the US state of Oregon. That would mean terminally-ill, medically competent adults who are expected to die within six months have access to an assisted death.
Spokesperson Davina Hehir says it is a very safe law with strict criteria. "It's very much person-centered; the person making the decision," she told RT.
Hehir says that every year, 300 terminally-ill people end their lives at home, and every eight days, a Briton travels to Dignitas in Switzerland for an assisted death. She says lawmakers should not ignore the difficult, expensive, and painful journey faced by many dying people.
"Ultimately the law isn't working at the moment. You have British people – even though it's essentially illegal – going to Switzerland to have an assisted death. They're trying to take control of their deaths here at home, or simply suffering at the end of their lives when they shouldn't have to."
Anti-assisted suicide group Care Not Killing says a change in law would place pressure on vulnerable people to end their lives for fear of being an emotional or financial burden on others.
"A ban on assisted dying and euthanasia in the UK exists to protect vulnerable people. Those people who are terminally ill, those people who might feel that the right to die has become a duty to die," spokesperson Alistair Thompson says.
Thompson believes that even a "limited" law would amount to a "slippery slope." He points to the case of a sex abuse victim in the Netherlands who suffered from depression and severe anorexia as a result of her abuse, and was allowed to undergo euthanasia via lethal injection last year.
He also notes that in Belgium, 45-year-old deaf twins chose to die in 2013 when they found out they would soon become blind, and a terminally-ill minor was helped to die last year after age restrictions on euthanasia were lifted.
"We only have to look at Belgium and Holland – their law was very strictly controlled initially, but what we are seeing now is people who are going blind, people with mental health problems, people with dementia, are now being euthanized."
Thompson says Britain's priority should be improving palliative care.
When asked about a person's right to choose when they die, he said:"It is a personal choice to die – that is absolutely protected in law. If they want to die they can. They are allowed to refuse treatment which will hasten the end of life in many situations. What they don't have the right for is to ask for the state to kill them, which is a very, very different situation.
"They're asking for a doctor who subscribes to the Hippocratic Oath, which is to save lives not take lives, to deliberately and knowingly prescribe them a lethal cocktail of drugs to hasten the end of life. That is very, very different – morally, philosophically, religiously."
Lesley Close, who accompanied her brother, John, to Dignitas in 2003, now campaigns for assisted suicide. She says John's death after suffering from motor neurone disease was "peaceful and dignified."
"John slowly fell asleep and his eyes closed, his head drooped, his neck was very weak. And his breathing slowed, and he knew nothing about what was happening to him. He was beyond feeling or thinking, and 20 minutes later he had died."
She believes if her brother had been given the same "compassionate help" in the UK he would have died at least two months later, "sat in the window of his flat, watching the sunset, listening to music of his choice."
Conway is expected to hear the High Court decision next month. If he is successful, it will not automatically mean he can have an assisted death in Britain. It will, however, put pressure on parliament to debate the issue again.
You can share this story on social media: