Extra time? Theresa May seeks 2yr Brexit 'transition period,' concedes it will cost UK
Published time: 22 Sep, 2017 13:19
Edited time: 23 Sep, 2017 18:33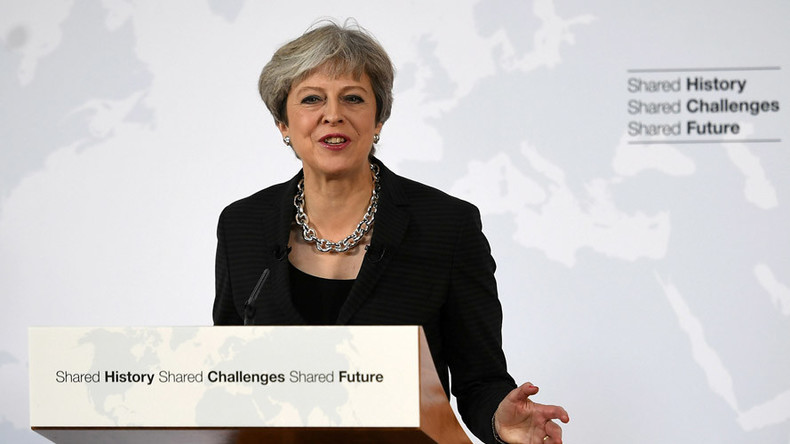 Prime Minister Theresa May has called for extra time for Britain to leave the EU beyond the official Brexit date, while promising the UK will continue to pay for its commitments to Brussels up until 2020.
Speaking in Florence, Italy, May attempted to break through the deadlock between both sides of the split.
The Prime Minister conceded on the Brexit bill being demanded by the bloc, although she did not set a figure.
At the same time, she heaped praise on Brussels, and called for EU chiefs to allow extra time for Britain to leave, bit by bit.
"People, business and public services should only have to plan for one set of changes," she said.
"During the implementation period access to one another's markets should continue."
"How long should be determined by how long it takes."
The PM did not state a specific figure for the divorce bill in her speech, but has reportedly opened the door to Britain paying between €20-40 billion (US$24-48 billion) to the EU after it leaves in 2019, in a commitment that is already angering Brexit-supporting Tory MPs.
May's offer, which is designed to target EU leaders discretely in order to help restart negotiations that have stalled over the divorce bill, falls well short of EU expectations, which are reportedly up to €100 billion.
May told other EU countries Britain wants to be their "strongest friend and partner," calling for the EU to strike an "ambitious economic partnership with Britain." She suggested it would not be modelled on existing trade deals, such as those with Canada and Switzerland, which took many years to negotiate, but be a bespoke arrangement.
She said she would ensure EU citizens in the UK would have their rights enshrined in the final Brexit treaty, so British courts are directly bound by the agreement.
In another concession, she added that European Justice case law could be taken into account in these cases in order to assuage concerns that the UK Parliament might seek to dilute their rights in the future.
"We want you to stay, we value you and we thank you for your contribution to our national life," May said in a direct messages to European Union citizens living in Britain.
May also made an "unconditional" promise to help maintain Europe's security in the years to come, and said the UK would sign a treaty with the EU on security cooperation to "promote our common security."
"It has been, and remains, one of my first goals in this negotiation to ensure that you can carry on living your lives as before," she said.
However, despite reaching out to the EU on some issues, May risked angering many of those Brits who voted to remain in the EU, saying that: "Britain has never entirely felt at home in the European Union."