Britain has sold Saudi Arabia £6bn in weapons since Yemen war began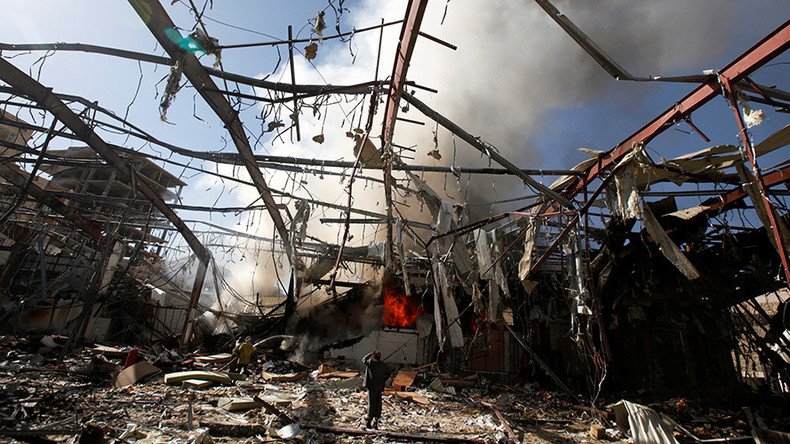 British arms companies have earned £6 billion ($8bn) from selling weapons to Saudi Arabia during the ongoing war in Yemen, it has emerged. The fighting has killed more than 10,000 people, destroyed vital infrastructure, and fomented a cholera epidemic.
War Child UK claims the true revenues from dealings with the Gulf kingdom are almost double previous estimates of £3.2 billion.
The charity told the Independent that private arms manufacturers, including BAE systems and Raytheon are, "profiteering from the deaths of innocent children" by selling missiles and equipment to the Saudi-led coalition.
Rocco Blume, a conflict and humanitarian advisor at War Child, told the newspaper Britain is not only selling arms to Saudi forces but maintaining them as well.
"We all want to see productive international trade, but this is damaging. The revenue has to be seen in the context of all other costs incurred in this trade, especially to our international reputation, particularly on human rights."
Blume says there has been a "lack of transparency" on the extent of British firms' involvement amid a global weakening of protections for children in conflicts. He also said Britain had become "less fussy" about international trading partners as Brexit approaches.
The charity also said there is a disparity between the economic benefit to the British public versus the profit for private firms inside the arms industry, which is estimated at almost £600 million.
War Child UK found that an estimated tax revenue of 45 pence per head was "dwarfed" by pay and bonuses, as well as the amount spent by the government on aid to Yemen.
"Weapons sales to Saudi Arabia generated just £13 million in corporation tax in 2016, yet during 2017, the UK will spend £139 million in humanitarian aid to Yemen," a spokesperson said.
"This means the Treasury is spending over four times in aid what it is getting back in tax."
The Saudi-led coalition has waged a devastating air campaign in Yemen since 2015 to support the government in its war against Houthi rebels. The British government was forced to defend the trade amid evidence of war crimes and civilian deaths after the UN called Yemen the world's greatest humanitarian disaster.
Evidence gathered on the ground suggests some of the bombings were carried out using British-made weapons, including Raytheon's laser-guided Paveway IV smart bomb, which is manufactured in Fife.
BAE Systems and Raytheon were among exhibitors at an arms fair in London last week, supported by the government and senior military commanders.
Secretary of State for International Trade Liam Fox was asked by reporters at the arms fair how many civilian deaths it would take before the UK revoked the license to sell arms. He defended the "ethical" trade, and said it did not violate international law.
You can share this story on social media: