Disgusting moment rat crawls out of 130-tonne 'fatberg' lodged in London sewer (VIDEO)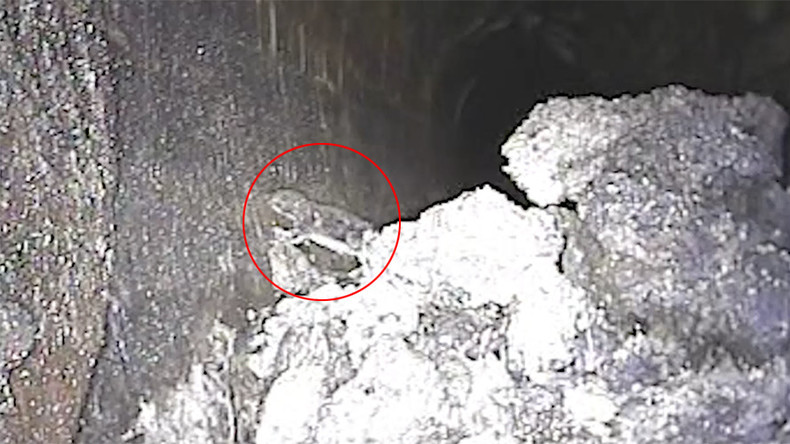 A sanitation worker taking part in a three-week effort to dislodge a giant 130-tonne 'fatberg' clogging a London sewer has captured the moment a rat scrambled out of the pile of subterranean waste.
The video, published by Thames Water, shows the moment one of its engineers spots the rodent with his torch as he makes his way through the sickening mass of condoms, oil and nappies.
The eight-man team are tasked with removing the pile of rubbish, which is blocking a 250-metre stretch of sewer beneath the streets of Whitechapel, East London.
The men are using high-powered hoses to fragment the mass at a rate of 20 tonnes per day.
The fatberg is understood to be one of the biggest ever seen in the UK, measuring the equivalent length of two Wembley football pitches, and weighing the same as 11 double-decker buses.
One worker said: "We're here down in Whitechapel in London removing the biggest fatberg we've seen so far in our sewers.
"We've already moved 40 tonnes and this is the latest block of fatberg that's just been pulled fresh out of the sewer. Only another 90 tonnes to go," he told the Independent.
The Museum of London has reportedly shown an interested in obtaining part of the mass to showcase it in its general collection.
Alex Werner, lead curator for the new site of the Museum of London, told the Guardian the fatberg "calls to attention the way we live our lives in a modern city."
The Museum had already expressed interest in acquiring a chunk of a fatberg when two others were spotted in Kingston and Leicester Square.
"It speaks to the breakdown in London's infrastructure as we transition between periods.
"The sewer dates back to the 19th century, and is struggling to cope with the number of high-rise developments and population increases.
"In 50 years' time, maybe it will be looked on as a historic artifact, because we'll have solved this problem."