Massive 'fatberg' in London sewer could have posed Christmas flooding risk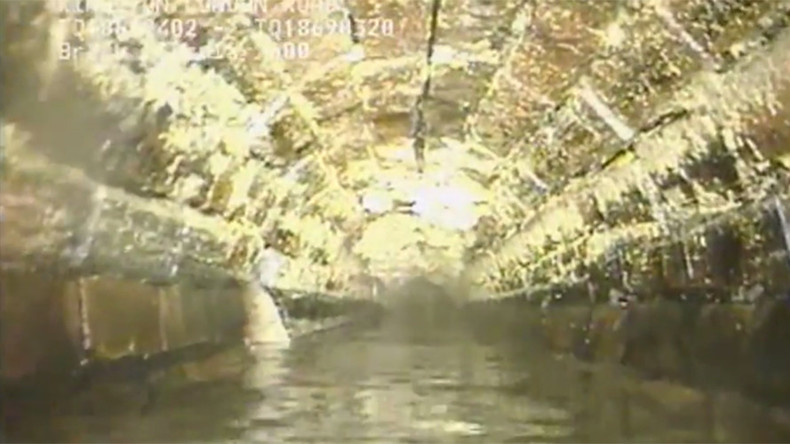 A giant "fatberg" found in a London sewer could have put houses at risk of flooding over the festive period, Thames Water has warned.
The huge mass of waste products, made up of grease, fat, and items which do not break down in sewage water such as face wipes and diapers, was found underneath Leather Lane in Clerkenwell.
Thames Water said if the fatberg had not been discovered, it could well have caused sewage pipes to burst and flood homes.
Following the discovery on December 19, teams of specialist engineers have worked throughout the week to break down the mass into smaller pieces and get rid of the numerous items that had become stuck in the grease.
The firm said this particular build-up is one of 200,000 fatbergs they have treated in the past five years.
Notable fatbergs in recent years include a mass the size of a bus found underneath Kingston-upon-Thames in August 2013 and a 40-meter fatberg found underneath Chelsea earlier in 2015.
By far the largest London fatberg, however, was found in September 2014 and was the size of a Boeing 474 aircraft. It included, amongst other things, tennis balls and wooden planks.
Thames Water say the problem is likely to get worse over Christmas, when many people pour large quantities of fat down the sink after their Christmas dinner. They estimate that over Christmas Day and Boxing Day, the equivalent of two Olympic-sized swimming pools arrives in sewers across the UK.
The problem is made even worse by low temperatures, which can cause the liquid fat to solidify and trap items in its path.
Thames Water's head of sewer networks Jerry White said: "Instead of tipping it down the drain, simply use containers such as leftover cranberry sauce jars, brandy butter tubs, or margarine pots as 'fat traps' to put your cooled fat [into] before throwing it in the bin.
"Please don't feed the fatberg this Christmas," he added.