'Terrorist incident': London's police probe Parsons Green tube explosion (PHOTOS, VIDEOS)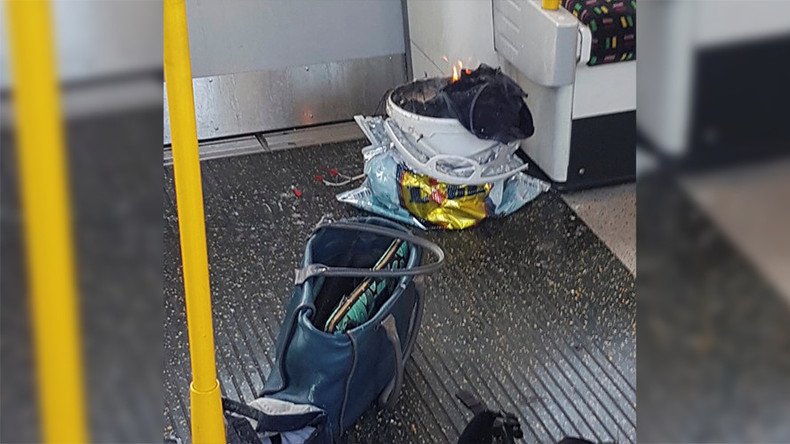 Emergency services are responding to "a terrorist incident" at Parsons Green tube station in London, following an explosion on a train Friday morning. Some 18 people are injured.
"The Met's Counter Terrorism Command are investigating after the incident at Parsons Green tube station is declared a terrorist incident," the Metropolitan Police said. "We urge the public to remain calm but alert & if you have any concerns, see or hear anything suspicious then contact police."
Officers were called the station at around 8:20am local time on Friday "following reports of an incident on a tube train," the Met Police said. Counter-terrorism police are also on the scene and are being assisted by MI5.
Commuters initially reported the explosion stemmed from a fire in a bucket, although the contents of the bucket are not known. Images and videos circulating on social media show what appears to be a burning bucket inside a shopping bag on the floor of the train.Passengers evacuated the train after the back carriages reportedly filled with smoke.
Police confirmed the explosion was caused by an "improvised explosive device," although it did not fully detonate, according to Sky News.
READ MORE: Witnesses describe 'fireball' and 'stampede' in Parsons Green explosion
London Ambulance Service says a total of 18 people were hospitalized but none have life-threatening injuries, according to AP.
"Thoughts are with those injured at Parsons Green and the emergency services who, once again, are responding swiftly and bravely to a suspected terrorist incident," British Prime Minister Theresa May said.
May will chair a Cabinet Office Briefing Room (Cobra) emergency meeting Friday afternoon, Downing Street said.
"Obviously, everybody should keep calm and go about their lives in a normal way, as normal as they possibly can," Foreign Secretary and former London Mayor Boris Johnson told Sky News. "As far as I understand it, the British Transport Police and TfL are on it and they will be updating their websites as and when we have more information."
A passenger shared images of his singed hair after the incident.
"Charred head from the fireball at Parsons Green," Peter Crowley tweeted.
A number of passengers were stuck on the train.
One commuter told RT.com, "They are evacuating us now."
"The Metropolitan Police confirmed that the explosion on a train at Parsons Green Station this morning is being treated as terrorism," London Mayor Sadiq Khan said. "Our city utterly condemns the hideous individuals who attempt to use terror to harm us and destroy our way of life. As London has proven again and again, we will never be intimidated or defeated by terrorism.
"I am in close contact with the Metropolitan Police, Transport for London, Government and other emergency services who are responding at the scene and leading the investigation. I will be attending the emergency COBRA meeting in Whitehall this afternoon with the Prime Minister.
"I urge all Londoners to remain calm and vigilant, and to check TfL's website for travel advice."
The District Line between Edgware Road and Wimbledon has also been suspended, TfL said. The Earls Court-Wimbledon and Ealing Broadway-Turnham Green eastbound service are also suspended.
According to the London Fire Brigade, six fire engines, two rescue units and around 50 firefighters are at the scene.
The London Ambulance Service have released a statement. "We were called at 8:20 am to reports of an incident at Parsons Green Underground," Natasha Wills, Assistant Director of Operations, said.
"We have sent multiple resources to the scene including single responders in cars, ambulance crews, incident response officers and our hazardous area response team with the first of our medics arriving in under five minutes."
"Our initial priority is to assess the level and nature of injuries. More information will follow when we have it."
You can share this story on social media: