#Wewillrebuild: Britons unleash hurricane humour, as Storm Aileen rips through UK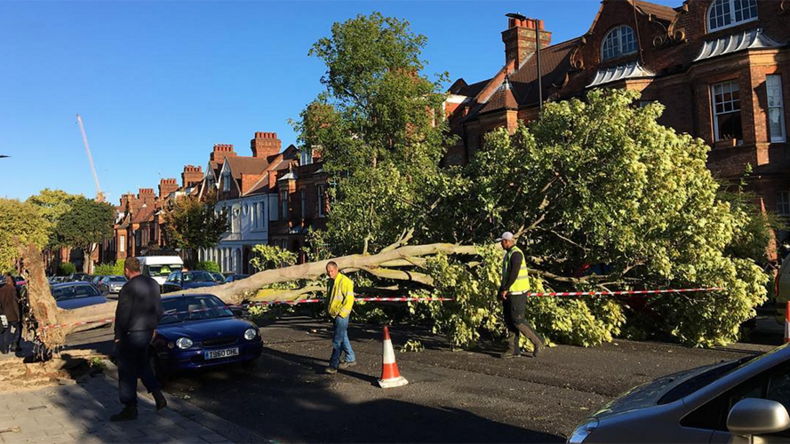 As storm Aileen ripped through parts of the UK, Britons faced adversity with the now traditional method: mocking it on social media. #wewillrebuild is being used on Twitter to show the wreckage caused to patios up and down the nation.
Storm Aileen, the first storm of the year to be named, caused transport delays and left thousands of people without power.
People flocked to Twitter to mock the bad weather, with some ironically using the #wewillrebuild hashtag, which is the same one used for US hurricane Irma, which recently devastated the Caribbean and Florida.
While one described the "aftermath" of the storm as a watering can lying on their garden patio…
Memes were also used to mock the bad weather.
And more irony:
Others complained the storm cut off power in their homes as they were boiling the kettle.
The Meteorological Office said winds of up to 74mph hit Mumbles Head in south Wales, while parts of northern England and the north Midlands were also affected.
The Met Office, however, said there is no connection between the high winds in the UK and the hurricane that has wrecked the Caribbean and the US state of Florida. It added that the UK's weather system is coming from the north, in the Atlantic.
Chief forecaster Frank Saunders said: "The low pressure system that is bringing these strong winds will move fairly swiftly from west to east over the UK and although there will be some disruption through Wednesday morning, the winds will ease by the afternoon leaving a day of blustery showers."
More than 800 homes were left powerless in Nottinghamshire last night, as well as 700 homes in Lincolnshire.
Wales and south-west England also reported power cuts.
But Electricity North West said its engineers have restored power to 1,000 homes which were isolated overnight. About 250 homes in Buxton, Macclesfield and Leigh, however, remain cut-off.
The warning for strong winds is in place until 10:00 BST. Heavy rain is also expected until midday.