Moaning sex doll joins 'weird' interview on UK morning TV show (VIDEO)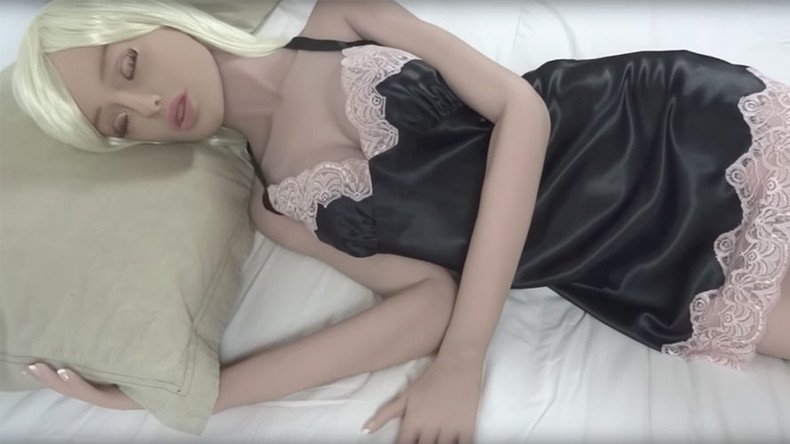 The creator of a 'philosophical' sex doll, which comes with a "family mode," has defended the use of X-rated robots by admitting on morning television that he and his wife enjoy romantic liaisons with the £3,000 ($4,000) rubber humanoid.
ITV show 'This Morning' took a bizarre turn when a human-sized sex doll was invited onto the couch alongside its co-creator, Arran Lee Squire.
READ MORE: Sex robots could provide therapy and treat loneliness in care homes
Squire manufactures an "advanced" sex doll called Samantha, which he believes can enhance people's performance in the bedroom, but also be incorporated into family life.
"I have two children myself and Samantha has a family mode. She can talk about animals, she can talk about philosophy, she can talk about science and she is programmed with a 1,000 jokes. So there's a lot to Samantha. She's advanced."
The ever-advancing nature of AI has brought fears that robots could one day supersede humans. But Squire denied that sex dolls were a replacement for women.
"You can actually interact with her verbally and physically. She's got sensors. It's not to replace people. We're not trying to replace women. It's a supplement to help people enhance their relationship. You can tell her you love her and she'll respond," he told presenters Holly Willoughby and Phillip Schofield.
Asked whether the doll's voice made it seem like he was having sex with a car GPS, he said the doll was a "very beautiful" robot in human form.
He said the texture of the doll made it seem like it has real skin. "We're working on ways where she can be linked to a higher power source and then she could be warm," he said.
READ MORE: Europe's first sex doll brothel forced to close its doors
Squire's wife added that she was not worried about having a sex doll in the house, admitting the couple had "fun" with it.
"I'm not worried at all because I'm not replaceable at all by Samantha. She has actually helped us to enhance our relationship. We have fun with her," she said.
Viewers of the interview have chimed in with their own opinions, with some describing the use of sex dolls as "weird and wrong" and others seeing the funny side of it.
You can share this story on social media: