Brexit secretary calls for 'special' EU defence partnership – or is it a ransom note?
Published time: 12 Sep, 2017 16:01
Edited time: 14 Sep, 2017 07:16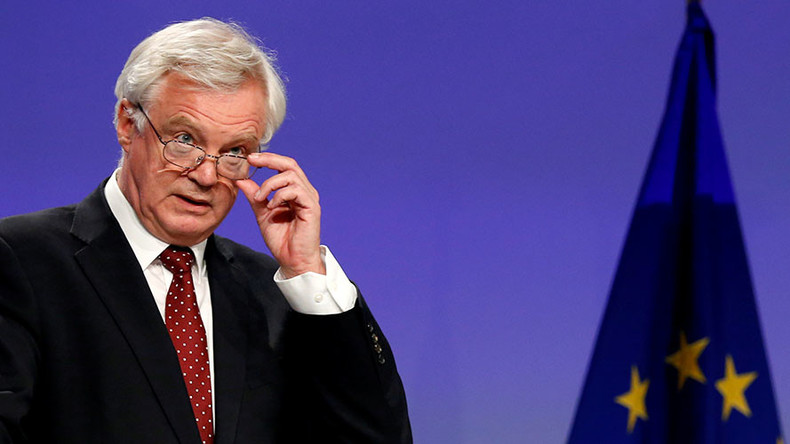 British military resources might well be used as a carrot to dangle above the EU in Brexit negotiations in a potentially risky negotiating move by Brexit Secretary David Davis.
The UK is planning to pull out its trump card in the latest round of talks, offering access to its military and intelligence assets to make a play for a trade deal which looks better for Britain.
Theresa May hinted at the same strategy when she wrote her official letter to trigger Article 50 – and claimed the fight against crime and terrorism would be "weakened".
As a result she received international condemnation but Britain is repeating the tactic anyway.
Britain's relative strength other EU nations in military matters, including cyber-crime units, counter terror operations and intelligence gathering sources, is held in high regard by Downing Street.
The UK has the largest defence budget in Europe, and is the only European country that meets NATO targets.
Brexit secretary David Davis for the Department of Exiting the European Union (DExEU) is planning to offer up a "deep and special partnership" on defence and security.
Such an offer could include the use of British military assets in EU operations.
In the "future partnership paper" Davis will offer help in the Mediterranean where the EU is funding migrant patrols, and Britain could pledge to give "joint positions on foreign policy".
As the EU, and individual member states, face a huge threat from terror attacks, officials in the Downing Street Brexit team will warn the EU if there is no deal, there may be no framework for information sharing, putting all nations at further risk.
Both sides of the divorce have been at loggerheads over the so-called "bill".
The bloc wants Britain to pay for its commitments up to 2020 – and the UK is refusing to talk about money until it knows what it is paying for.
Davis is hoping the paper will encourage his counterpart in Brussels, chief negotiator Michel Barnier, to outline what the future between the bloc and Britain looks like.
"After we leave the European Union we will continue to face shared threats to our security, our shared values and our way of life," Mr Davis will say.
"It's in our mutual interest to work closely with the EU and its member states to challenge terrorism and extremism, illegal migration, cyber-crime, and conventional state-based military aggression."
Davis will insist Britain's "world class diplomacy and defence capabilities" are being highlighted to the EU as he looks for a "deep and special partnership".
UK Foreign Secretary Boris Johnson sought to douse any flames of resentment, as he insisted Britain is not holding the EU to ransom.
"As we leave the EU, the UK's commitment to European security is undiminished," he said in the paper.
"We will pursue a global foreign policy, and continue to work in partnership with our neighbours to promote peace, democracy and security in our continent and across the world."