'Inflexible' EU has 'bent over backwards' for UK – Guy Verhofstadt
Published time: 1 Sep, 2017 09:29
Edited time: 2 Sep, 2017 12:50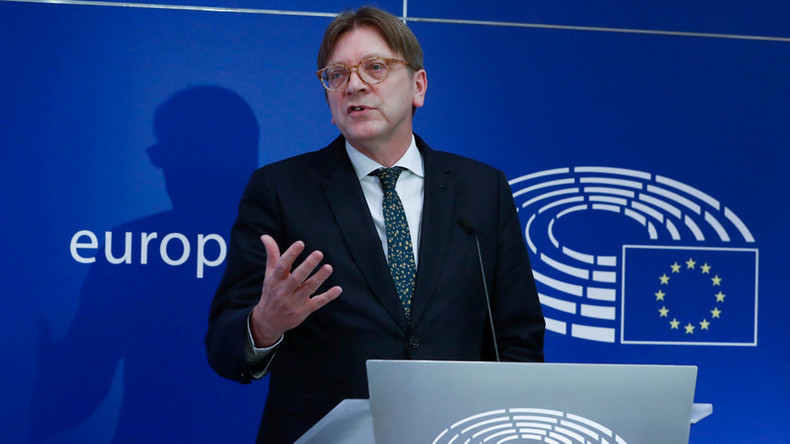 The EU has "bent over backwards" for Britain, Brexit negotiator Guy Verhofstadt has said, shooting down David Davis's claims that Brussels' approach to the talks are inflexible.
During the third round of Brexit negotiations this week, Britain's Brexit Secretary called for a less rigid approach to negotiations. Verhofstadt hit back, claiming "the facts do not support this mantra."
Writing in the Telegraph on Friday, Verhofstadt, chief Brexit negotiator of the European Parliament, said that since the UK joined the EU, it has enjoyed a "bespoke form of membership that is unique."
"An opt-out from the euro, but banker to the Eurozone. An opt-out from Schengen, but access to the security databases linked to it. A blanket opt-out from Justice and Home Affairs, with the possibility to opt back into the most effective crime-fighting measures. The list goes on."
Verhofstadt said any suggestions the EU forced the UK out of the bloc by refusing to agree to former Prime Minister David Cameron's renegotiation requests ahead of the referendum last year are incorrect.
"I was in the room at the time of renegotiation and substantial additional exceptions were offered – a new special status of EU membership, with an opt-out from the core principle of 'ever closer union' and an emergency brake on benefits for EU workers.
"I even offered to work with the UK to develop a new form of associate EU membership, but UK members rejected it, as they argued it would mean losing the UK's seat at the top table.
"If this is not showing flexibility, I don't know what is."
Verhofstadt says now UK ministers seem to want to devise a new customs union and seek to recreate all of EU's structures in order to "benefit from the best elements of the EU, without it being called the EU."
He said this was "not serious, fair or even possible" given the negotiating time remaining, which had been "significantly limited by the UK's own decision to call a general election after the triggering of Article 50."
Verhofstadt also slapped down any hopes harbored by Britain of conducting simultaneous divorce and future relationship talks, saying there must be an agreement on the divorce – financial liabilities, the Irish border, and EU citizens' rights – "before planning a new future together."
"This is not a ploy to derail talks, but an inevitable consequence of the Brexit decision.
"It's time for UK politicians to be more honest about the complexities Brexit creates and for them to recognize that other governments also have obligations to their own taxpayers."
The third round of Brexit negotiations, focused on settling the terms of Britain's exit from the EU, ended on Thursday with a warning from Brussels that more work needed to be done before they moved on to discuss future ties.