Half of Britons think Islam is 'threat to West,' study reveals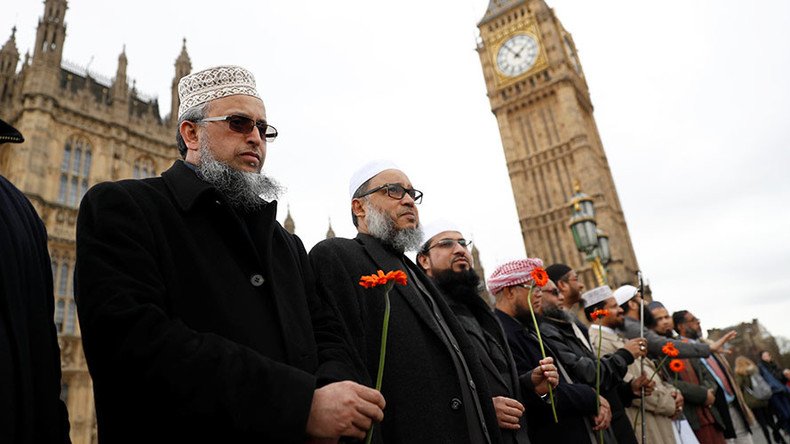 More than half of Britons believe Islam "poses a threat to the West," despite the UK becoming more tolerant and open overall, a new study has claimed.
Following recent Islamist-inspired terrorist incidents in Westminster, Manchester and London's Borough Market, 42 percent of people say they now have less trust for Muslims in Britain, while 52 percent believe Islam poses a threat, the Populus poll published by campaign group Hope not Hate shows.
The figures also reveal that a quarter of English people think Islam is a "dangerous religion that incites violence."
Older people are more likely to express Islamophobic views, the poll finds, "painting a worrying set of views" which Hope not Hate said would require "significant effort" to address.
The increase in negative attitudes towards Muslims comes despite an overall improvement in attitudes among Britons towards different groups in society. The report found that two-fifths of the population have a liberal outlook, compared to 22 percent six years ago.
The study asked more than 4,000 people in England 140 questions relating to current events.
It found responses to Brexit had left Britain more divided, with attitudes towards race and faith becoming increasingly polarized since the last poll in 2011. But the survey saw more positive views towards immigration since Brexit, with more than half of respondents saying they believe immigration is good for the country - up by 15 percent in five years.
Islamophobia monitoring group Tell MAMA said in a statement the poll is "both heartening but also worrying." It said a "slippery slope" could be ahead if changes are not made.
"[The poll] shows a divide between the wider public and British Muslim communities, and with the divides becoming stark.
"If we are to ensure that community tensions, extremism and marginalization are to be tackled in our country, we have to find ways which address the concerns of the wider public, whilst also ensuring that British Muslims feel like they have a future and a space in the United Kingdom.
"If we don't collectively make a change, there is a slippery slope ahead which does not bode well," it added.
You can share this story on social media: