Theresa May expresses 'full confidence' in Boris Johnson following 'clown' claims
Published time: 30 Aug, 2017 10:15
Edited time: 31 Aug, 2017 07:43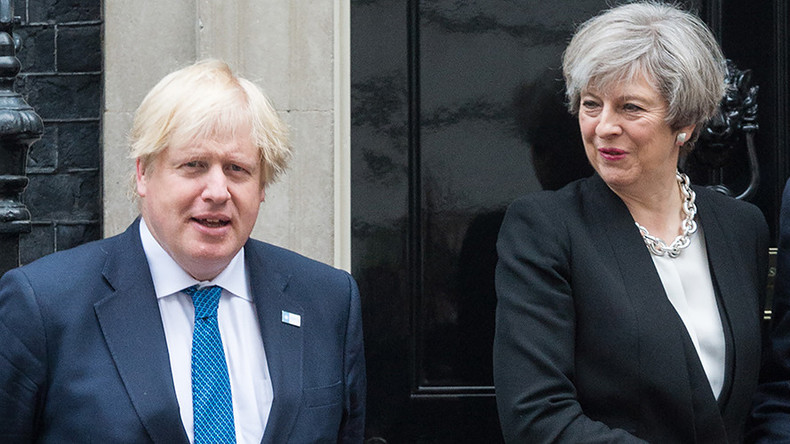 Downing Street has rejected claims that Boris Johnson is a "clown" and a "joke," saying the prime minister has "full confidence" in the foreign secretary.
No 10 said Theresa May and Johnson have a good relationship, despite his gaffes and obvious ambition to become PM.
The PM's office was responding to claims published in the Times that Johnson is not taken seriously by US and EU officials.
Rachel Sylvester's column quoted diplomatic sources as saying officials in US President Donald Trump's administration "don't want to go anywhere near Boris because they think he's a joke."
Another unnamed minister told the newspaper, "It's worse in Europe. There is not a single foreign minister there who takes him seriously. They think he's a clown who can never resist a gag."
No 10 was also asked to addressed a claim in the Times that intelligence agencies are hesitant about handing Johnson sensitive material.
"I'm not going to comment on a column in a newspaper," the PM's spokesman told a Westminster briefing.
"But the prime minister meets the foreign secretary regularly and they have a good relationship," she said, according to Sky News.
When asked if Johnson enjoys the same confidence among his EU counterparts, she responded, "The prime minister has a good relationship with Boris Johnson, has full confidence in him and he's doing a good job."
Johnson has previously compared the EU to Hitler, and has called the bloc's freedom of movement "b******."
May has always defended her appointment of Johnson as foreign secretary.
Back in December, Labour MP Peter Dowd asked May during PMQs if she regretted the appointment.
"In the light of the foreign secretary's display of chronic foot in mouth disease, when deciding on cabinet positions does the prime minister now regret that penciling FO against his name should have been an instruction and not a job offer?"
However, the PM rallied to Johnson's defense.
"I have to say the Foreign Secretary is a doing an absolutely excellent job.
"He is in short an FFS – a fine foreign secretary."