'Yorkshire Ripper' serial killer admits doing 'bad things' but says he never attacked men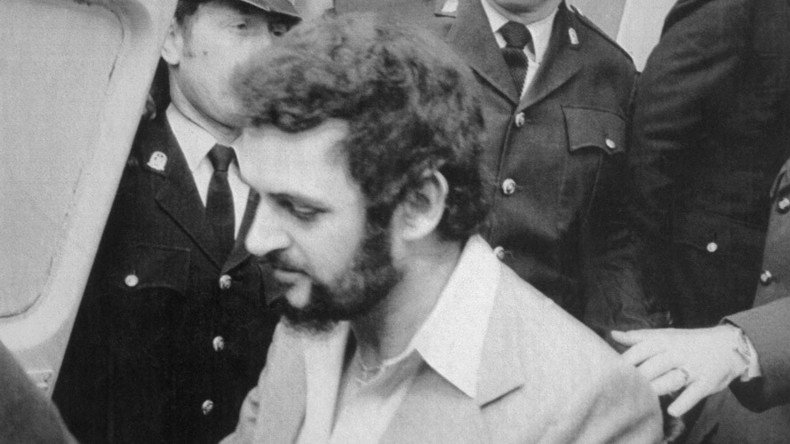 Peter Sutcliffe, the British mass murderer dubbed the Yorkshire Ripper, has written a letter from behind bars admitting "I did some bad things," but rejects claims he is behind the attacks on two men.
Writing to the presenter of ITV's 'Calendar' news show, Christine Talbot, Sutcliffe said: "Yes, I did some bad things, but I just want people to know that I did not attack or murder any males."
Sutcliffe, who has been told he will never be released from prison, where he is serving 20 life sentences for the murder of 13 women between 1975 and 1980, said he is being "100 percent honest."
The former Bradford truck driver killed the women using knives, screwdrivers and hammers.
The letter follows an ITV investigation into whether Sutcliffe was also behind the murder of bookmaker Fred Craven, from Bingley in West Yorkshire.
It was also alleged that he was responsible for attacking Leeds taxi driver John Tomey, who was left with life-changing brain injuries after reportedly being attacked by a passenger with a hammer.
Both attacks would have taken place before those Sutcliffe was convicted for.
Craven, a father of five, was found beaten to death in a hammer attack in his town center office back in 1966.
Craven's daughter, Irene Vidler, 74, told Calendar she is confident Sutcliffe is behind her father's killing.
"He knew us quite well, he used to come to our house for tea when we were children," she said.
"He placed bets with my dad. My sister Jenny, he asked her to go out with him and she refused because she didn't like him.
"At the time of the attack, Sutcliffe was working in the Bingley graveyard.
"I think that given the way he was killed with a hammer on his head, that it was the same way Sutcliffe killed his victims."
Tomey, now 77, is adamant his attacker was Sutcliffe.
But writing from Durham's top-security Frankland Prison under the adopted name of Peter Coonan, Sutcliffe said: "I can tell you with 100 percent honesty I did not murder Mr Craven. And never have I attacked a male."
"With a whole life sentence I'd have nothing to lose and it would not be in my interest to say I didn't do it if I did, because I'm in jail until my dying day," he added.