'Always bet on black': Bookmaker's Mayweather v McGregor tweet branded racist
Published time: 23 Aug, 2017 13:58
Edited time: 18 Apr, 2018 15:02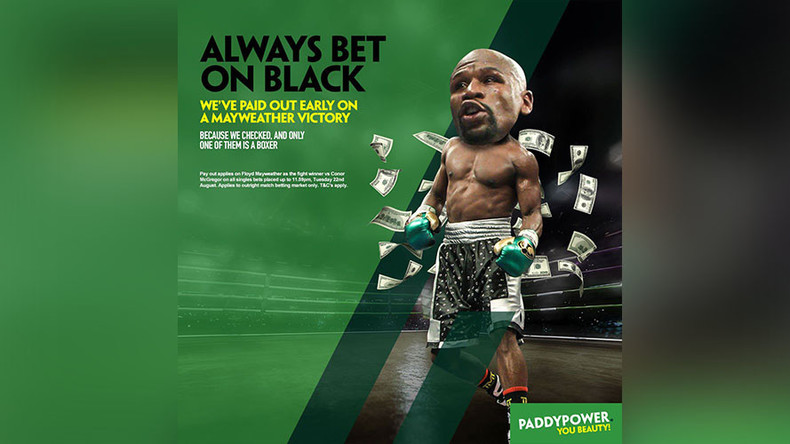 Bookmaker Paddy Power has been accused of racism after promoting the Floyd Mayweather versus Conor McGregor fight with an online advert saying it "always bets on black."
The bookmaker paid out on a Mayweather victory in the so-called "fight of the century."
Alongside a picture of US boxing legend Mayweather, the ad said: "Always bet on black. We've paid out early on a Mayweather victory. Because we checked, only one of them is a boxer."
Fans blasted the advert online, calling it "racist." Twitter users that they would be shutting down their account after "this racist nonsense" and that the company "should be ashamed of themselves."
Another user posted "you can't say that in this day and age," while another said "presumably someone thought this was edge and good for publicity."
Paddy Power has said the tweet is not racist, but referencing a "classic movie line" from the 1992 film, Passenger 57.
The bookmaker tweeted a GIF of actor Wesley Snipes performing in Passenger 57 with the caption: "As the great Wesley Snipes once said… always bet on black."
McGregor was himself accused of racism in the buildup to the fight after he told Mayweather to "dance for me, boy" during a promotional tour.
He has vehemently denied there was anything racist in what he said, and has accused the Mayweather camp of attempting to twist his words.