Quarter of Brexit voters feel 'misled' by Leave campaign, poll finds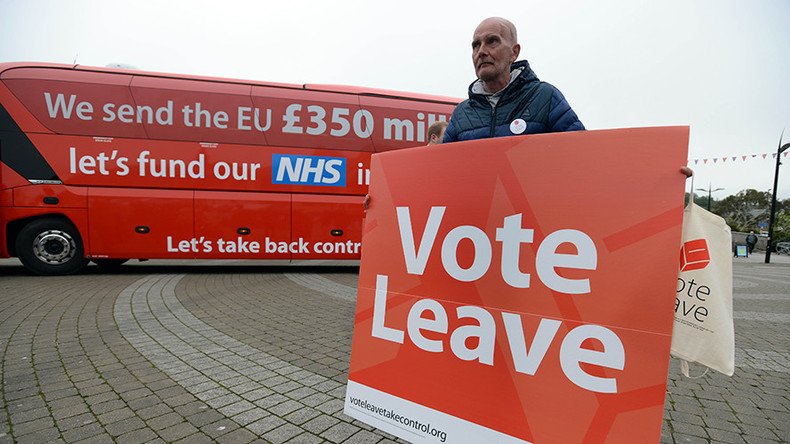 More than a quarter of people who voted for Brexit believe they were misled by the Leave campaign, with almost one-in-10 now saying they would vote to 'Remain' if a second referendum was called.
According to a survey by Opinium, 26 percent of all Brexit voters said they were misled by Leave. One of the main arguments used by the campaign was the false promise of an additional £350 million (now US$450 million) per week for the National Health Service (NHS), which has since been proven untrue.
Theresa May's government has since repeatedly refused to commit itself to the pledge. In May this year, Health Secretary Jeremy Hunt admitted the government could not deliver on the vow.
Now over a year after the vote, the poll found half of all respondents think the Leave campaign was mostly or completely misleading, with only 19 percent describing it as truthful.
It also showed that if there were another referendum, 47 percent of respondents said they would vote to Remain, against 44 percent who said they would vote to Leave.
However, there is not widespread support for a second referendum.
Asked whether they believed there should be a vote allowing the public to choose between leaving under the terms negotiated or remaining in the EU, only 37 percent agreed and 49 percent opposed the idea.
The survey also found there are significant concerns that Brexit would leave voters financially worse off in the coming years. Some 39 percent of all voters, and even 23 percent of Leave voters, said they expect to be worse off as a result of Brexit in the next two years.
The public was more evenly split on the effect over the long term. Some 31 percent said they would be better off after 10 years, and 30 percent said they would be worse off.
The poll also found there is widespread support for a softer form of Brexit than the one currently being pursued by Theresa May.
Meanwhile, 36 percent said they would be willing to see freedom of movement continue if it meant staying inside the single market, while 31 percent said they would be willing to leave the single market as a price for ending free movement.
You can share this story on social media: