Man arrested for anti-Muslim chest graffiti tells RT that Britain has failed groomed white girls
Published time: 15 Aug, 2017 15:35
Edited time: 16 Aug, 2017 08:28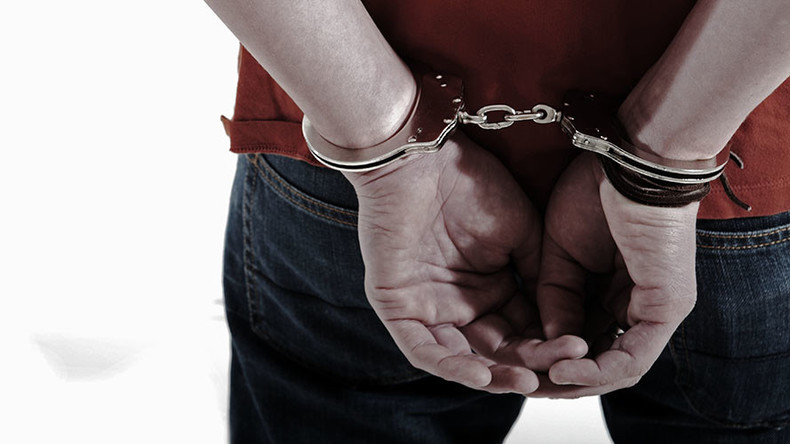 A man who was arrested after stripping off in public to reveal his torso scrawled with the words "stop Muslim grooming gangs" has accused the government of failing to do enough to tackle anti-white racism.
Unemployed Jimmy Lamb, 24, took his shirt off in Newcastle and then in Gateshead town centers last week to reveal the slogans. His protest came after 18 Asian men were jailed for abusing girls as young as 14.
Lamb first launched his unusual protest next to the Monument in Newcastle shopping center. Half an hour later, the police told him to cover up and move on.
Lamb, however, took a train to Gateshead and repeated his protest, this time in Trinity Square.
He was arrested 30 minutes later on suspicion of provoking racial hatred with written material.
Lamb defended his protest, arguing he was trying to draw attention to what he believes to be a religious and racial element underscoring sexual abuse.
"I want it all to stop… thirty years of Muslims grooming generations of our youth because our communities have become weak," he told RT.
It was reported last week that 18 men were found guilty of plying girls with drugs and alcohol in Newcastle before forcing them to have sex.
One of the accused reportedly said white women are "only good for one thing, for men like me to f*** and use as trash."
Lamb shared his outrage at the remarks.
"It makes my blood boil. I'm proud of my history and our girls are not trash. They deserve to live in a safe country.
"If you read about grooming cases… in England the girls are called derogatory terms based on color of skin.
"It is simply a racial crime. I want this known."
He said he does not mind if he will now be called a "racist." He claims to have become "pro-white" because he "had to."
The 24-year-old said he expects to be prosecuted.
"[It is] most likely I will be charged – of course it is wrong, but what can you expect of a country that puts racism above little girls' lives?" Lamb said.
Lamb's attempt to raise awareness on the racial and religious element in gang-related sexual abuse mirrors recent calls by Labour's shadow women's minister, Sarah Champion.
The Rotherham MP called out the government for failing to investigate whether there is a "cultural issue" in gang-related crimes, particularly since Pakistani men have been involved "time and time again."
But Newcastle city centre councillor Dipu Ahad claimed Lamb's actions do little to help those who have suffered abuse.
"People who focus on religion or culture do not really care about the victims.
"They are not out trying to help, or work out solutions to this problem."