British MPs condemn Donald Trump's reaction to neo-Nazi protests
Published time: 14 Aug, 2017 11:21
Edited time: 15 Aug, 2017 08:11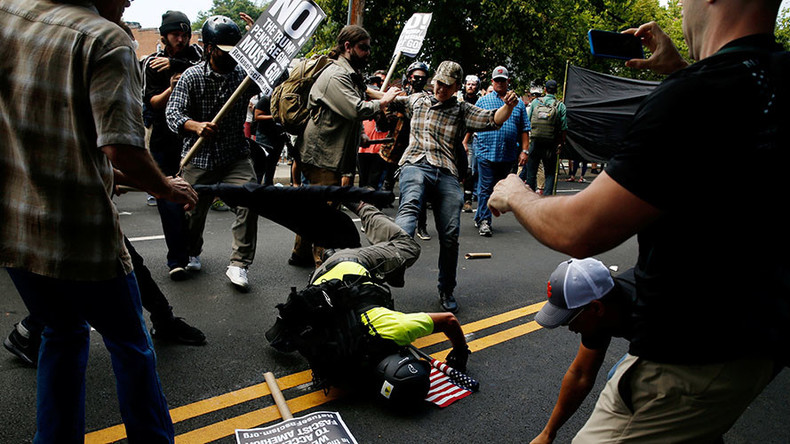 British MPs have joined the condemnation of neo-Nazi clashes in Charlottesville, Virginia and US President Donald Trump's failure to specifically denounce far-right groups.
Chaos rocked the streets of Charlottesville after neo-Nazis, skinheads, and members of the Ku Klux Klan assembled for a white nationalist rally carrying flaming torches and clutching assault rifles to protest the removal of a Confederate statue.
Tensions with hundreds of counter-protesters quickly descended into street clashes that turned deadly. More than 30 people have been injured and a 32-year-old woman was killed when a car was driven at speed into a group of anti-fascist protesters. Two policemen died in a helicopter crash while trying to restore peace.
Trump has faced criticism after failing to explicitly condemn the role of white supremacists in the clashes. On Saturday, he said he condemned "hatred, bigotry and violence on many sides," repeating the phrase "on many sides" for emphasis.
Jess Phillips, the Labour MP for Birmingham Yardley, tweeted: "As someone from the political world, I don't dislike Trump because he's an outsider (he's not.) I don't like him because he's a stupid bigot."
Labour MP Jack Dromey urged Prime Minister Theresa May to tell Trump his "poisonous presence is not wanted in Britain."
The official Downing Street account tweeted that May's "thoughts and prayers are with Charlottesville. The UK stands with the US against racism, hatred and violence." Trump was not mentioned specifically.
Another Labour MP, Dan Carden, tweeted that Charlottesville "isn't a many-sided conflict" but a "resurgent white supremacist movement emboldened to violence. Shame on Donald Trump."
Former Labour spin doctor Alastair Campbell also took the opportunity to criticize Trump.
Liberal Democrat MP Tom Brake tweeted that Trump's response was "sad."
Former UKIP leader Nigel Farage is being ridiculed on Twitter for expressing his dismay over neo-Nazis engaging in violent clashes with anti-fascists in Charlottesville over the weekend.
Critics were quick to draw comparisons with him and Trump. They said Farage's relentless campaigning for Brexit had fostered a similar climate of hate.
One Twitter user said: "Has your incessant propagation of hate and mistrust all been a big misunderstanding?" while another tweeted "Really Nigel? This is what happens when you stir up nationalism and blame everything on immigrants."
Another user pointed to his anti-immigration 'Breaking Point' poster used during the referendum, which was likened to Nazi propaganda.
Twitter user Stu dredged up a letter written by one of Farage's school teachers that said: "Farage and others had marched through a quiet Sussex village very late at night shouting Hitler youth songs."
Labour MP Chris Bryant also condemned Farage's tweet, saying: "Yet the man you idolize refuses to unambiguously to condemn them. On your hands."
Labour leader Jeremy Corbyn also denounced the clashes over the weekend, tweeting: "My thoughts are with those killed and injured in Charlottesville standing up to racism and hatred."
Corbyn was criticized for his comments, however. Twitter user Chris Newton said: "Why can you condemn specific acts of violence here, but not when it comes to the IRA or Venezuela?"