British ex-Muslims vow to 'boldly' challenge Islam over LGBT persecution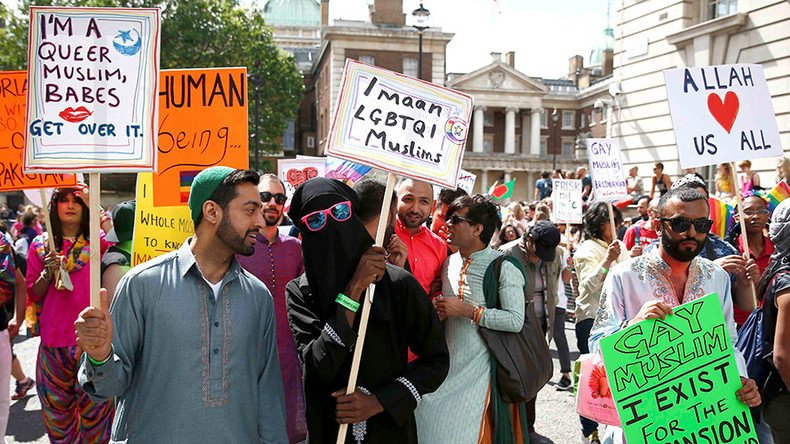 The Council of ex-Muslims of Britain will challenge Islam and any other religion for persecuting minorities, including the LGBT community, Jimmy Bangash, the spokesman for the controversial group, said during a debate on RT.
The group made headlines in the UK after its members joined an LGBT parade in London on Tuesday.
Their least controversial banners at the event read: "We're here. We're kaffir [unbelievers]. Get used to it," "Celebrating apostasy," "Make LGBT rights universal" and others, accompanied by a list of Muslim states that punish homosexuality by the death penalty.
The group's protest outraged many worshipers and UK Muslim organizations, but the group rejected the criticism, saying: "We don't need your permission to march for LGBT rights or the rights of apostates."
The Council of ex-Muslims is a "rampant Islamophobic organization" that has made its mission "to demonize Islam and the religious beliefs of Muslims," Mohammed Shafiq, chief executive of the Ramadhan Foundation, a Muslim group promoting peaceful co-existence between all British communities, said during a live debate on RT.
"Let's just say, is there a council of ex-Christians? Is there a Council of ex-Jews? A Council of ex-Hindus? A Council of ex-Sikhs?" he wondered.
Shafiq said that it was puzzling for him that the people, who themselves opted to cut ties with Islam, keep meddling in Muslim affairs.
"Let's accept that they've got a right to leave Islam – then why are they constantly obsessed about Islam? They need to get a life. Move on. Enjoy their life and their 'new freedom' as they tell us," Shafiq said.
READ MORE: Milo Yiannopoulos wants to ban Muslim group on Glasgow campus 'to protect LGBT students'
Bangash, who described himself as "a British Pakistani, who grew up as a gay individual in a Muslim family," said that Shafiq's complaints were groundless.
"Asking us to leave the religion and then be silent about our kin across the world, who are being victimized by the Muslim states, is an absurd request," he said.
Bangash said that the group has no intention of spreading Islamophobia in the British society, explaining: "This is my community. I have no interest in galvanizing hate against Muslims because I'll be subjected to that same hate" due to own Muslim background.
However, the spokesman stressed that the Council of ex-Muslims will continue to protest persecution of minorities in Islam and other religions.
"If religion is legislating against people, like gays, we will challenge that. And we will challenge that boldly. We will challenge that in meaningful ways, holding signs that provoke thought," Bangash said.
READ MORE: Gay Nigerian man faces 'unlawful' deportation from Britain
Human rights activist Peter Tatchellbacked Bangash by arguing that the group's participation in the LGBT protest was justified.

"Hatred against people is always wrong, whether they'd be Muslim or anyone else. But criticizing bigoted intolerant ideas is entirely right and proper," he said.

According to the activist, the Council of ex-Muslims was "targeting Islamist homophobia. It wasn't targeting Muslim people or even Islam, in general."
"The Council of ex-Muslims has never criticized or condemned Muslim people. It has only condemned and criticized Islamist extremists, who advocate hatred and violence against LGBT people," Tatchell added.
You can share this story on social media: