RT & #EstClubTour join forces to find Britain's best new satirical talent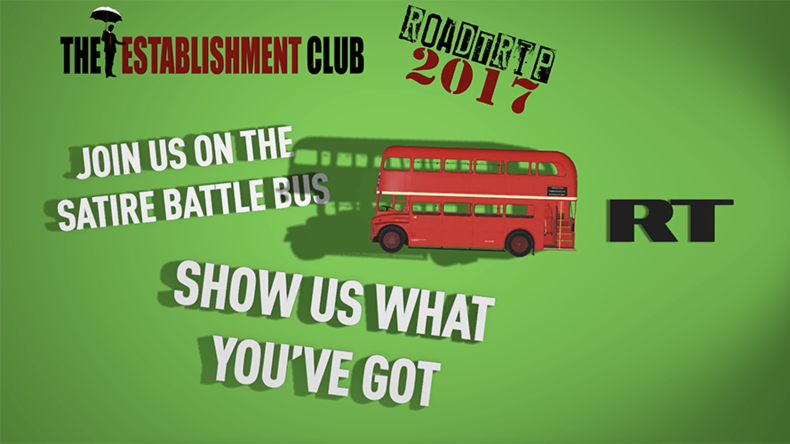 RT is offering you the chance to hold the rich and powerful to account, through the power of satire.
RT UK is joining forces with the legendary force of satire The Establishment Club to launch a new TV satirical program, and it's looking for the best talent to take part.
A revamped version of The Establishment Club, originally formed in the 1960s by comedy icon Peter Cook, seeks to "respond to the extraordinary amount of censorship" taking over the country.
The idea is to showcase talent from across the nation, whether they be poets, authors or songwriters, as long as they are "unflinchingly" witty in holding the current state to account.
Just as it gave a platform years ago to renowned satirical character Jonathan Pie, RT UK will now extend that to "nothing but the most cutting and unique takes on the state of the nation."
In order to find the unique talent, the new Establishment Club team will be taking a double-decker bus up-and-down country in search for those who have a "voice, are angry and passionate."
The show will be fronted by notorious MC Keith Allen, who is calling on all artists to use their talent to vent their frustration with the government and join the show, saying: "If you want to be heard, let us hear you."
The Establishment Club will start its scavenging for talent in Bristol on August 9, followed by Brighton, Manchester, Newcastle and Edinburgh.
The best acts from each city will be uploaded to the website each week.
The judges will then choose the top five performers to take part in its new satire TV show to be broadcast every week.
If you are unable to make it to any of the venues, you can still upload your video to the website, as long as it is no longer than four minutes!