Excessive force? London police point assault rifles at men in traffic stop (VIDEO)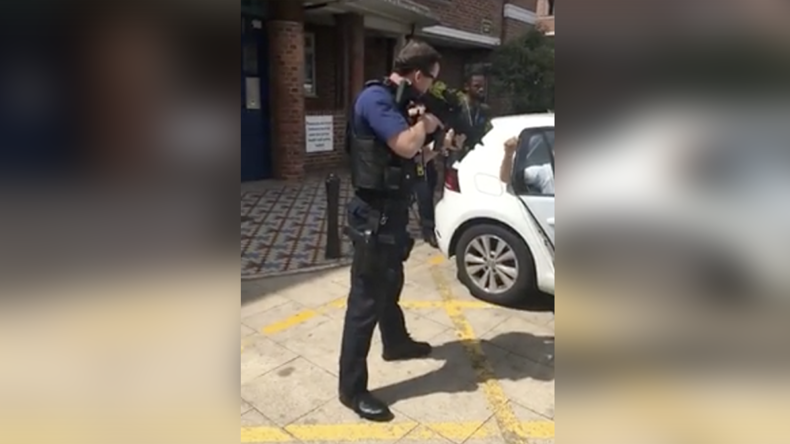 Police in London have been accused of using "excessive force" after being caught on video pointing assault rifles at two young men as they held their hands in the air.
Mobile phone footage posted on Facebook shows two armed officers aiming their weapons at the men as they sat in a car in Hackney. The men can be heard questioning why the officers are using "excessive force" against them.
The videos, shared hundreds of times on social media, show young men in the car saying: "I don't know why you are pointing guns at us. We've done nothing wrong," and "I don't know why you are doing this. All of this force for no reason."
A police officer can be heard saying "stop talking over me" as the standoff continues for about a minute.
A woman can be heard in the background shouting: "They'd only been there for five or 10 minutes and then the police just pulled up like this. And they've got guns - why? They can't do that."
According to the Independent, the Metropolitan Police said the vehicle was stopped as a result of "information" the force had received. Three men, aged 25, 24 and 22, were arrested for possession of drugs, money laundering offenses and possession of an offensive weapon – a hammer.
Police said they could not confirm that those arrested were those in the car, but that three men were being detained in a north London police station.
The incident comes just a few days after 20-year-old Rashan Charles died following a police chase. Many local residents have accused police of using excessive force.
Figures released by the Independent Police Complaints Commission (IPCC) show there were six fatal police shootings in the last 12 months to March 2017, double the total of the previous 12 months.
You can share this story on social media: