Young black man dies during police chase, investigation launched (VIDEO)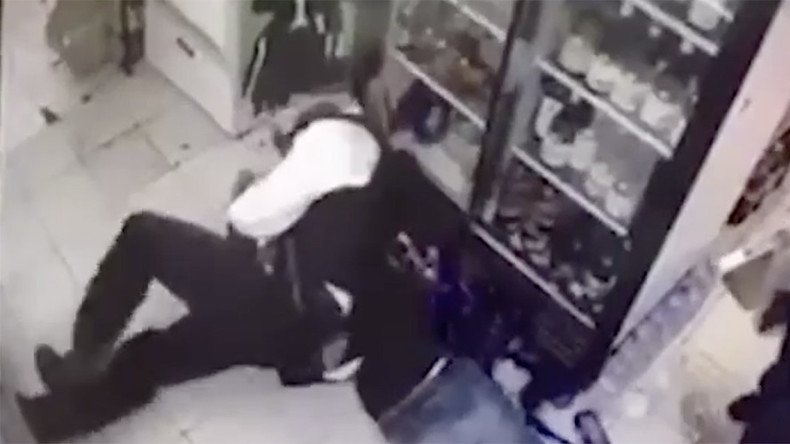 The UK's police watchdog is investigating whether excessive force was used on a young black man who died after he was wrestled to the floor by an officer in a corner shop in east London.
Scotland Yard says Rashan Charles, 20, died in the early hours of Saturday after he tried to "swallow an object" before being apprehended by police. It says the officer was seeking "to prevent the man from harming himself."
Footage of the arrest posted on social media by a friend of Charles' family shows a police officer following a man into a shop in Kingsland Road and wrestling him to the ground after he apparently failed to stop for officers.
The officer appeared to put his arm around the man's neck, move his hand towards his mouth and handcuff him with the help of a bystander.
After they put handcuffs on, it appears the man has stopped breathing and the officer removes his hat as he radios for help.
Moments later, two officers arrive on the scene and the video is cut off. Charles, a father of one, was pronounced dead in the hospital.
An investigation has been opened by the Independent Police Complaints Commission (IPCC) – as is standard with all deaths in police custody. It said it had obtained evidence "which indicates an object was removed from his throat at the scene."
Simon Lawrence, the borough commander for Hackney, said in a statement he recognized there would be "speculation" over the circumstances of Charles' death.
"The IPCC has launched an independent investigation to establish what happened, and has viewed the officer's body worn video. There is likely to be speculation over the next few days regarding what led to this man becoming ill.
"All police officers are fully aware that they will be asked to account for their actions – officers are not exempt from the law and we would not wish to be."
Tributes have been pouring in for Charles, with family and friends laying flowers in Hackney.
Stand Up To Racism protesters are planning a 'Justice for Rash' vigil on Monday evening outside Stoke Newington police station.
Campaigners say they are "enormously concerned and angered" over the death of Charles.
They say Charles' death was the latest in a "seemingly endless list of young black men dying at the hands of the authorities."
You can share this story on social media: