Calais migrants 'hijack truck after attacking British driver with brick'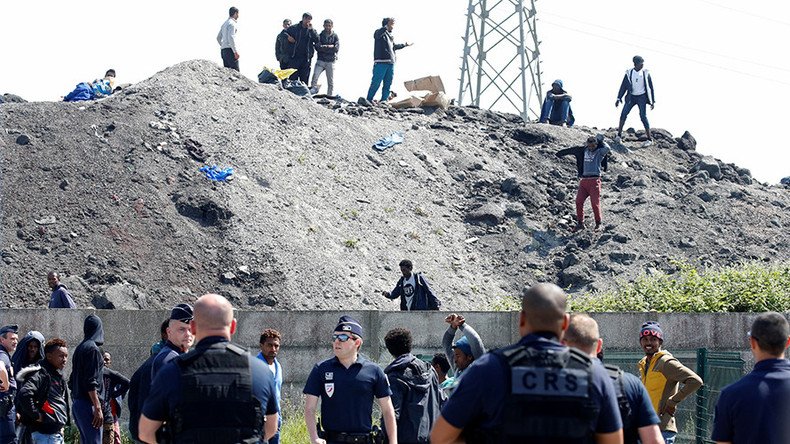 A British truck driver was attacked and left for dead in Calais, northern France, when migrants hijacked his vehicle in a bid to enter the UK, it has been reported.
The incident comes as Human Rights Watch released a report condemning the "routine" abuse of asylum seekers by French police.
Hundreds of migrants have returned to the Calais area in recent months despite the demolition of the sprawling camp known as 'the Jungle.'
With conflicts and instability still blighting the Middle East and Africa, and British authorities facing criticism for failing to offer asylum seekers safe and legal passage, the pull factors bringing migrants to the French coast have not changed.
According to the Road Haulage Association (RHA), the British driver had stopped on the A16 motorway outside Calais, near Marck, when he noticed migrants trying to climb into his truck.
When he exited the vehicle to inspect the damage, he was attacked by the group who hit him over the head with a brick, stole his truck and drove off towards the port in a bid to get into the UK.
Their attempt failed when the vehicle was stopped by police before reaching the port.
The RHA says the attack on the unnamed driver, who is now recovering in hospital with a serious head injury, "comes as a stark warning to UK-bound hauliers that migrants will stop at nothing to reach our shores."
"This latest method of hijacking is a new one and clearly shows that the desperation of migrants to get to the UK has reached new heights," RHA chief executive Richard Burnett said.
Charlie Elphicke, Tory MP for Dover, said the "sickening attack" shows the extreme measures people will take to get into Britain.
"Whether it's using small aircraft or using lorries, trafficking gangs are using even more disturbing tactics to smuggle migrants across the English Channel. That's why we need a crackdown on these ruthless people traffickers and end their evil trade of modern slavery," he told the Daily Express.
A shocking attack. Tourists and truckers must be safe on the road to Calais. We need to crackdown on traffickers https://t.co/EqI6KkRbzo

— Charlie Elphicke (@CharlieElphicke) July 25, 2017
In May, British truck drivers called for increased protection in Calais following the first serious attacks by migrants since the demolition of 'the Jungle.'
A Polish driver was killed on one of the main approach roads to Calais last month after migrants reportedly dragged tree trunks ontop the A16 motorway in a bid to slow traffic and break into vehicles bound for Britain.
Migrants are not the only ones committing violence. The latest incident comes as Human Rights Watch released a report saying French police in Calais routinely abuse migrants and the authorities turn a blind eye in the hope they will leave the northern coast town.
The 40-page report, 'Like Living In Hell,' finds that police forces in Calais often use pepper spray on child and adult migrants while they are sleeping or in other situations where they pose no threat.
The report says police often confiscate sleeping bags, blankets and clothing, and have sometimes used pepper spray on migrants' food and water to make it inedible.
"Such acts violate the prohibition on inhuman and degrading treatment as well as international standards on police conduct," HRW said.
"Local and national authorities should immediately and unequivocally direct police to adhere to international standards on the use of force and to refrain from conduct that interferes with aid delivery."
Regional prefect Fabien Sudry dismissed the report, saying the accusations were unfounded. Any use of force by police was done in a proportionate fashion, he told Reuters.
Aid agencies and government officials estimate there are now as many as 600 migrants in the northern port area.
You can share this story on social media: