Donald Trump working on 'big' UK trade deal, takes a swipe at EU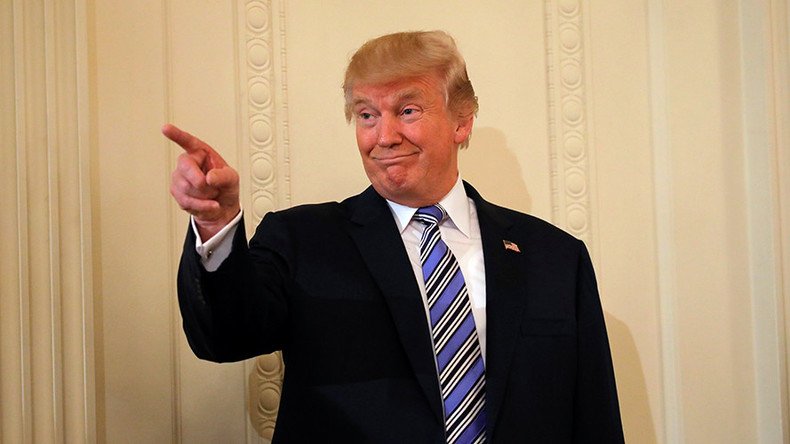 US President Donald Trump says he is working on a "major trade deal" with the UK after Brexit while criticizing the European Union for being too "protectionist."
In a Tweet posted on Tuesday, Trump said a bilateral trade deal could be "very big and exciting," adding that "JOBS!" will be created.
He also criticized the EU's trade relationship with the US, complaining the bloc is "very protectionist with the US. STOP!"
Trump earlier predicted a "new chapter for stronger trade" between Britain and America.
Former UKIP leader Nigel Farage tweeted that Trump's announcement shows "there's a big world for the UK outside the EU."
The announcement comes as International Trade Secretary Liam Fox concludes a two-day visit to Washington DC to prepare the ground for a possible US-UK trade agreement after Britain leaves the bloc in March 2019.
Trump has said he would like to see a speedy deal, although trade agreements typically take many years to conclude. In addition, any deal would have to be approved by Congress, and is likely to involve hard negotiations over tariff and nontariff barriers in areas such as agriculture and automobiles.
On Monday, Trade Secretary Fox published details of commercial ties between the UK and every congressional district in the US as a working party of officials met to discuss a future trade deal for the first time.
Two-way trade between the countries already totals £150 billion (US$195 billion).
Fox sparked controversy during his trip to the US after the government refused to rule out lifting a ban on chlorinated chicken as part of post-Brexit US-UK trade. He is reportedly open to agreeing to such products - which are banned by the EU - being imported to the UK in order to secure an agreement.
A report by a House of Lords committee warned Prime Minister Theresa May not to slash food regulations in order to facilitate a quick deal, saying it could lead to a "race to the bottom for welfare standards."
Until Britain leaves the EU, the government is not allowed to sign or formally negotiate trade deals with any third party countries.
Fox has visited several countries in recent months to set up "working groups" in advance of formal talks and said there is nothing to stop the British government "scoping out" how future trade relationships might look.
You can share this story on social media: