'Get ready to die': TV producer threatens family in explosive rant (VIDEO)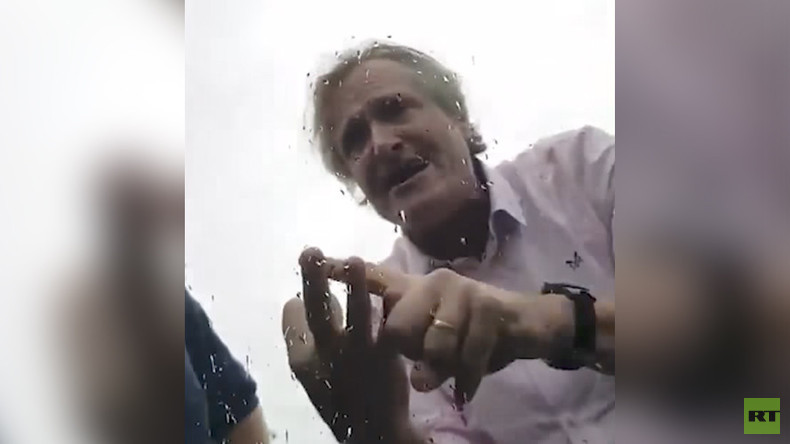 A British TV producer with credits on renowned David Attenborough nature shows has been filmed in an explosive rant threatening a family and child with a "citizen's arrest" and death.
Fergus Beeley, who spent time as a producer on wildlife programs 'Planet Earth' and 'The Life of Birds', reportedly became involved in a row after a minor traffic incident on Saturday and was filmed losing his temper.
During the four-minute video, Beeley can be heard repeatedly threatening the occupants of a car with a "citizen's arrest."
In the clip, Beeley denies accusations that he told motorists he was an off-duty police officer, before making derogatory comments about a woman that had seemingly provoked his ire.
"I wouldn't say that to a bunch of w***ers like you… You deserve it you old slut, you big slut," he tells people in the vehicle.
Beeley then launches into a manic tirade and grabs a passenger who had left the vehicle by the arms.
"I do want you dead. In fact I want you dead right now. So get back in your car before you die. You get back in your car before you die. You're under a citizen's arrest, put your hands on the car and get ready to die," he screams.
Turning to a bystander who asks him to calm down, Beeley shouts: "I'm not going to quieten down because I'm telling the judge and the police officer that these guys should be done for assault and dangerous driving."
On his LinkedIn page, Beeley cites his experience as a senior producer with the BBC between 1988 and 2009. Most recently, Beeley appears to have worked as Ambassador with Steppes Travel and President of the Wildlife Conservation Film Festival.
According to the Independent, no police complaints were filed following the incident on the M27 motorway in Hampshire.
Perhaps unsurprisingly, Beeley's actions provoked an outpouring of memes on Twitter.