Grenfell fire survivors demand resignation of new Kensington Council chief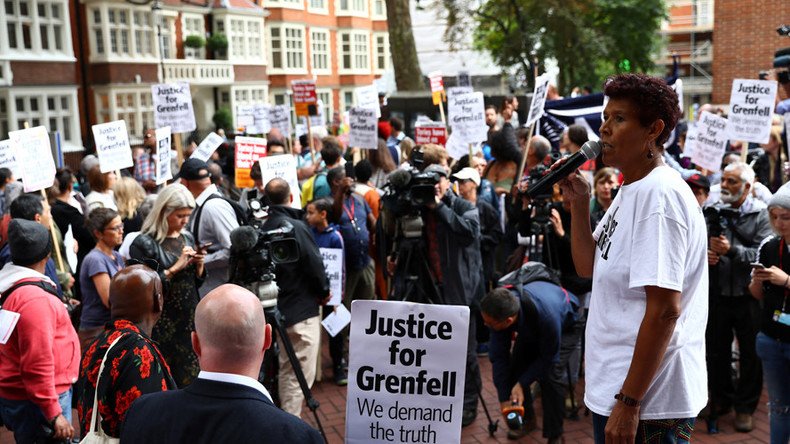 Kensington and Chelsea Borough Council's new leader faced calls to step down by angry survivors of the Grenfell Tower fire on Wednesday evening.
Elizabeth Campbell was sworn in as the new council leader during a public meeting, but was booed and heckled by Grenfell survivors who shouted "shame on you" and "resign."
Survivors are disappointed with the way the council has dealt with residents following the tower block blaze that killed at least 80.
They also hit out at its negligence after it emerged that residents had previously raised concerns about safety in the 24-story building.
Up to 150 people crammed into the council meeting while a crowd baring 'Justice for Grenfell' banners gathered outside to protest against the council and call on the new leader to resign immediately.
The meeting saw a procession of survivors give their traumatizing account of events as the flames engulfed the block on June 14.
One man, who lived on the 16th floor of Grenfell Tower called on the council to do more to help relocate survivors, thought to number around 255.
"I need a place to go and start my life," he said.
"I'm not asking for something big. We need to move on. We want to go to work – kids got to go to school," the man named Hamid said, the BBC reports.
Another woman told the meeting her teenage niece had died in the fire, and described how her parents could not speak in public because of their "huge" sorrow.
She mirrored other residents' claim that the council's on-the-ground response to the incident was "totally inadequate."
"I think you should be highly embarrassed by the response," she said.
As reports emerged that residents had previously flagged up the tower's safety issues with the council, the woman added that a "simple acknowledgment of an email would have gone a long way."
Another woman said the families of the deceased are being "treated like cattle," and that it made it hard to "have faith" in the council.
Another resident said the council had "forgotten" about him and his family after all five of them were left sleeping in a hotel room with just one double-bed.
"I am deeply sorry for the grief and trauma that you are suffering," Campbell said, the Telegraph reported.
"I am truly sorry that we did not do more to help you when you needed it the most."
Asked about calls for her resignation, she said the sentiment is "understandable," but that she feels she is "stepping up to the challenge rather than stepping down and away from it."
A petition calling for the council's entire leadership to resign has now been signed by 1,500 people.
In regards to the petition, Campbell said: "We will not continue business as usual and we will rebuild trust, as I said, brick by brick."
Campbell, who admitted she has never set foot in a tower block, said 68 new homes for Grenfell survivors would be acquired within the next two weeks, while another 31 would be bought thereafter.
You can share this story on social media: