Protesters in wheelchairs block MPs' entrance to Parliament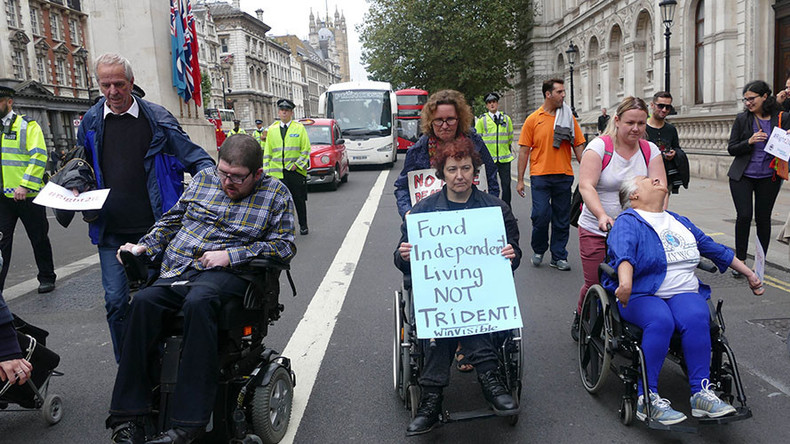 Protesters in wheelchairs blocked MPs' entrance to the House of Commons on Wednesday, chanting "no justice, no peace" in a demonstration over benefits cuts.
Police formed a cordon at the entrance to the Members' Lobby as the demonstrators demanded to speak with MPs as they attempted to exit the chamber following Prime Minister's Questions (PMQs).
Protesters from Disabled People Against Cuts (DPAC) said they were campaigning against cuts to social care. They chanted: "This is a message to Theresa May: while we have no justice, you will have no peace" and "No more deaths from benefits cuts."
Labour leader Jeremy Corbyn greeted members of the group and was met with a chorus of "Oh, Jeremy Corbyn" to the tune of the White Stripes' song Seven Nation Army.
Paula Peters, a member of the national steering group of DPAC, told the Independent she was in the Palace of Westminster to protest against the scrapping of the Independent Living Fund in 2015.
"Many disabled people with high support needs have had their care packages cut between 20 and 60 percent and are facing a bleak future in residential care or imprisoned at home, excluded from society.
"I tell this government now, disabled people will fight for their rights till the last person in their wheelchair to the last disabled person in this country.
"We are being treated horrifically under this government. We have borne the brunt of austerity nine times more than any other group."
The group clapped and cheered as they left following the protest, which lasted more than an hour.
In 2015, 30 disability protesters were escorted from Westminster Palace by police after trying to storm the House of Commons.
You can share this story on social media: