Did British students commit election fraud? Watchdog launches 'double-voting' probe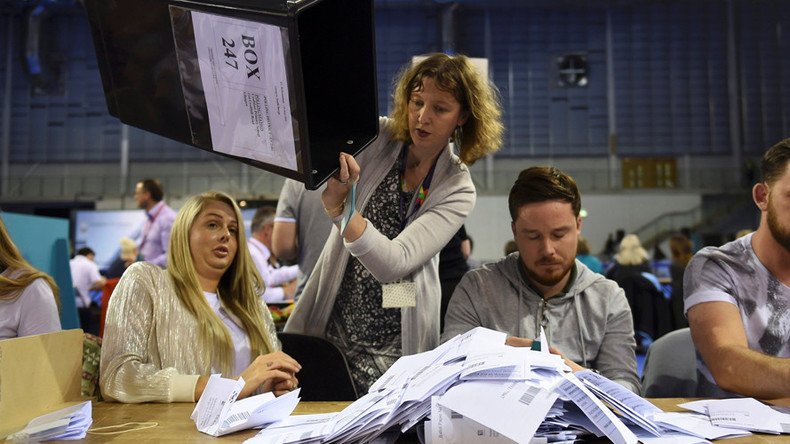 An investigation has been launched into "troubling" reports of thousands of people illegally voting twice in Britain's June 8 general election.
The Electoral Commission says it has received 1,000 emails from members of the public complaining about people "double-voting." The watchdog has also received letters of complaint from 38 MPs.
There is currently a loophole in the electoral system which allows students to register to vote in both their home constituency and their university town, meaning they can potentially vote twice. However doing so is a criminal offence.
"Although people may lawfully be registered to vote in more than one place in certain circumstances, it is troubling that some voters appear to have admitted voting more than once at the general election, which is an offence," the commission said in a new report.
The commission, which admits it is yet to find any evidence of abuse, is now calling on the government to implement a new computer system that prevents double voting and obliges people to register a single address.
"The size of the registered electorate for the general election demonstrates the UK's strong tradition of democratic engagement, and reflects the hard work of all concerned," Electoral Commission chair Sir John Holmes said
"However, if we are to keep pace with modern habits and practice in a digital world, the electoral registration system must continue to evolve, and consider innovative solutions such as direct or automatic enrolment processes," Holmes said, according to the Guardian.
He added that a renewal of the system would allow for a more accurate and comprehensive electoral register, as well as aid local authorities and the public purse.
Up to 500,000 more young people registered in the latest election than in the previous one, in 2015, bringing voter turnout to a record 46.8 million. It is thought that such surge is one of the main factors playing into Labour leader Jeremy Corbyn's impressive performance last month.
Labour MP Cat Smith, shadow minister for voter engagement and youth affairs, welcomed the commission's report, but warned against a radical overhaul of the system as it may deter people from voting.
"Double voting is a serious crime and it is vital that the police have the resources they need to bring about prosecution," the Guardian cited her as saying.
"However, we urge caution when looking at measures to tackle this issue – a blanket ban on being registered at two addresses would exclude those who for reasons of work or study need to be registered in two places."
Some Tories have accused left-wing students of deliberately double-voting in the election.
Wellingborough MP Peter Bone was among the first to make the allegation, saying he knows of students boasting on social media of having voted twice, according to the Daily Express.
In response to his concerns, Leader of the House of Commons Andrea Leadsom called for an investigation to be launched so that democratic rights of voters are upheld, the Daily Express reported.
Former United Kingdom Independence Party (UKIP) leader Nigel Farage also raised the allegation, claiming Jeremy Corbyn's "Marxist" views had attracted students to such an extent that they felt they had to vote for the socialist party twice.
In comments to US media, he also said people had been lured by Labour's policies because they have failed understand their history.
"Marxism is very appealing if you've never been exposed to it before or seen what history has done with it," said Farage.
"Corbyn went around saying to our students 'Look, I will wipe away all your tuition fees, I will promise you a land where there'll be money for this, and money for that, and it'll all be absolutely lovely' and young people were very attracted by it."
You can share this story on social media: