May now wants Corbyn's Labour to help her govern Britain
Published time: 10 Jul, 2017 10:02
Edited time: 11 Jul, 2017 08:10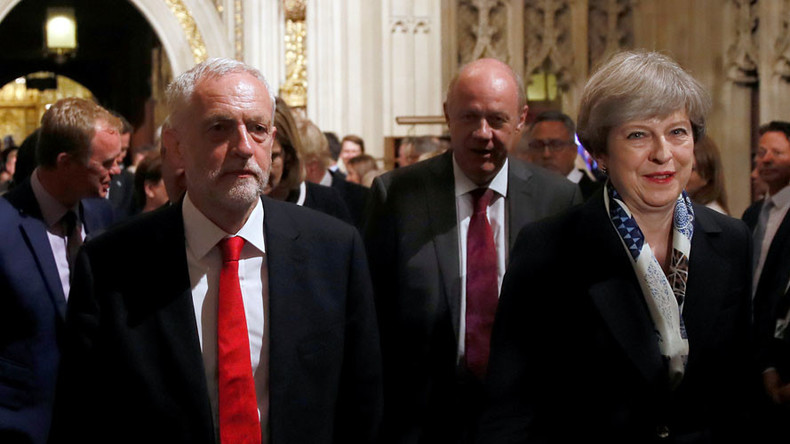 Prime Minister Theresa May will make an unprecedented appeal to the Labour Party to help create post-Brexit policies, leading some to suggest she has "completely run out of ideas."
A year on from when she first entered Downing Street, May will on Tuesday make a speech where she will reportedly seek to collaborate with Jeremy Corbyn's Labour Party, as well as other opposition MPs.
The offer for opposition parties to have a say in policy-making is being seen as an attempt by the PM to boost support for her minority government after she failed to win an absolute majority in the Commons during last month's general election.
"At this critical time in our history, we can either be timid or we can be bold," May will say.
"We can play it safe or we can strike out with renewed courage and vigor, making the case for our ideas and values and challenging our opponents to contribute, not just criticize…
"In everything we do, we will act with an unshakable sense of purpose to build the better, fairer Britain which we all want to see."
Andrew Gwynne, Labour campaign coordinator and a shadow cabinet minister, said May's speech is yet more proof that her government has become unsustainable.
"Theresa May has finally come clean and accepted the government has completely run out of ideas. As a result they're having to beg for policy proposals from Labour," he said, the Guardian reported.
"This is further evidence that this government can no longer run the country."
Although hailing the PM's call for cross-party collaboration, her deputy Damien Green admitted he believed that compromise between the two parties would be near impossible.
"Politicians of all parties are invited to contribute their reports, their ideas, that's a grown up way of doing politics," the first secretary of state told the BBC.
"I think a lot of your listeners would think, actually, if politicians just said, 'Why don't we just do this about a particular national issue, rather than just sit in the trenches and shell each other? Then we might actually have better government.' And that's what the Government is talking about."
However, when asked what the Tories would do about Labour's call to scrap the 1 percent cap on public sector pay, as well as tuition fees for higher education, Green suggested they both remained policies the Conservatives would fight against.
There are reports that May is now under severe pressure from within her own party to resign, as her popularity plunges to new lows after losing the 17-seat working majority she had inherited from her predecessor, David Cameron.
The Tory Party now only has a slender majority achieved only through a controversial £1 billion (US$1.29 billion) deal with the Northern Irish Democratic Unionist Party (DUP).