London firefighters battle blaze at Camden Lock Market (PHOTOS, VIDEOS)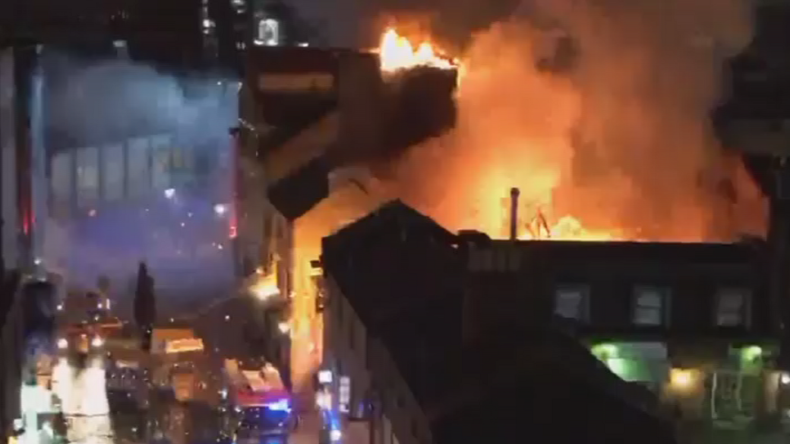 It took over three hours for dozens of firefighters and at least ten trucks to control the fire that erupted in the Camden Lock area of London at the busy tourist market.
According to the latest information, ten fire engines and 70 firefighters have been sent to tackle the flames at the Camden Lock Market, London Fire Brigade said in a Tweet.
Authorities have cordoned off part of Camden Market, a popular tourist destination. Firefighters are urging the public to avoid the Camden Lock area.
London's fire department said floors 1-3 of the building, located "within the market," as well as the roof were alight.
London Ambulance Service said that it has not treated any patients after being called in at 12.07 am.
"We sent a clinical team leader and our Hazardous Area Response Team (HART) to the scene," it said in a statement, the Independent quotes. "We have not treated any patients, and we remain at the scene."
The cause of the fire has not yet been established.
Shortly after 3:00 am, the London Fire Brigade announced that the "fire is now under control" adding that the crew "will be damping down into the morning."
The blaze comes less than a month after a horrific fire at a 24-story building in West London in which at least 80 people were killed. Grenfell Tower, which was home to around 600 people, burned to the ground after flammable cladding contributed to the rapid spread of the fire.
READ MORE: 181 high-rise buildings fail safety tests in Grenfell probe - UK government
London's Camden Market is one of Britain's most famous attractions, with over 1,000 shops and stalls that sell anything from fashion apparel and music to art and food.
It is the third time in less than a decade that flames have ripped through Camden Market.
In 2008, celebrity hangout The Hawley Arms, along with six shops and 90 market stalls, was badly damaged after a fire broke out.
And six years later, a blaze in the Stable Market caused the evacuation of up to 600 people.