May, Trump to meet privately at G20 summit
Published time: 6 Jul, 2017 11:03
Edited time: 7 Jul, 2017 10:00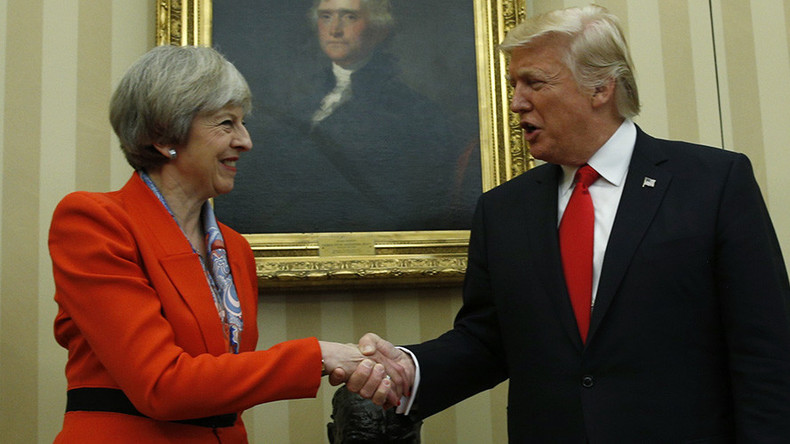 British Prime Minister Theresa May will be holding a private meeting with US President Donald Trump during the G20 summit in Germany this weekend.
It is believed May will attempt to persuade Trump to rejoin the Paris Agreement on climate change.
Trump wants the treaty to be altered to benefit the US, while May is said to remain "fully committed" to the document.
Downing Street could not guarantee whether the PM would agree to support some changes that could bring Trump back into the fold.
"She will say that we don't see any need for renegotiation – we support the Paris Agreement because it delivers," the Guardian quoted a senior government official saying.
Labour's shadow cabinet minister for climate change, Barry Gardiner, said the approach is too soft and that May should "take President Trump to task."
"A Labour prime minister would make clear that the UK stands by the Paris Agreement and that America is diminished by the president's foolish and shortsighted decision to withdraw," he added.
World leaders are meeting in Hamburg on Friday and Saturday to talk about an international fight against terrorism, and efforts to tackle healthcare and economic challenges and the refugee crisis.
May is also expected to talk to Trump about the escalating tensions between the US and North Korea, after Pyongyang tested a long-range missile this week.
"The PM and the president are expected to discuss the latest missile test by North Korea," the government official added.
"We are in agreement with the US Secretary of State Rex Tillerson that 'global action is required to stop a global threat.' The PM will say it is essential the international community is united in condemnation of North Korea's actions.
"Our focus is on working with the US and international community on how we can increase pressure and find a peaceful solution to the ongoing threat North Korea poses to international security. We will continue to play a central role at the UN – supporting resolutions on sanctions that will limit North Korea's ability to pursue its nuclear weapons program."
The meeting could be followed by a "flying visit" to London by the US president, whose official trip to Britain has been postponed several times since his inauguration in January.
Such a visit could come at just 24 hours' notice as both leaders are keen to avoid mass protests against the controversial president.
May and Trump's last meeting came shortly after the president took office, with May becoming the first leader to visit the White House. Her support for the businessman-turned-politician was widely criticized in Britain.